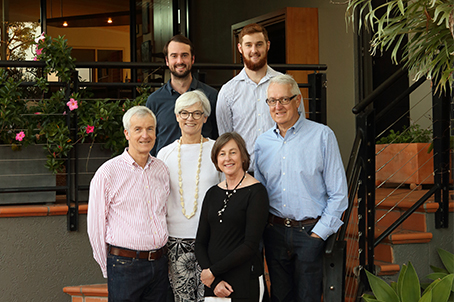 Spanning three generations, the Cavaye family has many connections with The UQ School of Medicine.  Graham Cavaye ('48) and his wife Diana ('48) were for many years active members of the university community.  All four of their children attended UQ with Doug ('80) and Caroline ('77) becoming respected members of the medical profession.  Each married doctors – graduates of UQ – and now Doug's children are following in the footsteps of their parents and grandparents.
Doug Cavaye recalls following his father, Graham, on ward rounds.  "Dad was the Surgeon Superintendent of the Rockhampton Base Hospital. Those were the days before mobile phones or beepers and he used to visit patients at weekends. There was always one or more of us children with him. The hospital was really just part of family life. The nurses used to give us biscuits.  We were part of the community - we knew everybody. It was a terrifically rich and wonderful childhood.
"Often I'd wait in his office while he was seeing patients.  I remember spending a lot of time poring over surgical text books filled with the most confronting illustrations. I was fascinated. But I was only about eight or nine and of course I had no idea then what I wanted to be when I grew up."
Now, more than 40 years on and as a respected Brisbane vascular surgeon, its Dr Cavaye's turn to pass on what he knows as his children become the third generation of the Cavaye family to study medicine at UQ.
"There was never any parental pressure on us to enter medicine." says Dr Cavaye. "We were left to make our own decisions. I hope it's the same with my children. I think it was just a matter that we were exposed to a way of life. We had good role models."
Graham Cavaye graduated from UQ School of Medicine in 1948 and went on to undertake surgical training in the UK.  He returned in the mid-1950s and settled his family in Rockhampton as one of only a handful of surgeons north of Brisbane. His wife, Diana a UQ science honours graduate ('48) taught in the UQ Department of Zoology.  In Rockhampton, she became the founding Head of Biology at the Capricornia Institute of Advanced Education (now the Central Queensland University). 
As her children grew and the family moved back to Brisbane, Diana's career expanded. Over the following two decades she held key positions with the UQ Senate, the National Health and Medical Research Council (NHMRC), the UQ Human Experimentation Ethics Committee (HEEC) and the Queensland Institute of Medical Research (QIMR) Ethics Committee. Diana's service was recognised by UQ with the award of an Honorary D Phil.
"Our mother set a formidable example.  Thinking about it, there is a theme of strong, intelligent women running through the family," says Doug.  "My mother, my sister Caroline, my wife Lisa and her mother Val are all exceptional people and have been a tremendously positive influence within the family."
Caroline was the first of the two siblings to enter medicine. She too recalls following her father on hospital visits and the excitement of taking turns to fly with him in a small Cessna to western Queensland on occasional visits to operate on sick patients.
"I remember watching him suture Doug's lacerated foot which made me feel quite faint. I must have been about nine," she says.  "The UQ Medical School was my education in every sense. Such a wonderful disparate bunch of committed students and teachers."
Caroline went on to marry fellow UQ graduate, anaesthetist, Andrew Mercer ('75) whose parents were also UQ graduates. Their three children chose careers outside medicine, two of them graduating from UQ (Katherine 2004, Alexandra 2012) and one from Griffith (Will 2013). None the less they have undoubtedly been shaped by their lives in a very medical household and by the caring and compassionate people around them.
As a dermatologist, she taught UQ medical students for many years and was closely involved with The Australasian College of Dermatologists, taking on many roles in education, including Chief Censor. Having recently retired, Caroline can look back at a highly satisfying career: "Medicine offers, perhaps uniquely, opportunities to spend a lifetime learning, improving in some small way the lives of others, and giving back to the community which has given us so much."
Doug married UQ graduate and general practitioner, Lisa Longden who he met when they were working at the Royal Brisbane Hospital. They moved to Los Angeles, where Doug continued his training in vascular surgery.
Returning to Brisbane, he taught at the UQ School of Medicine while establishing his surgical practice. In 2011, he resumed a formal commitment to teaching as Deputy Head of the Uniting Care Health Clinical School – one of 11 clinical schools at UQ.  Lisa, too, has been actively involved in clinical teaching and mentoring of UQ medical students in their general practice rotation.
All four of their children are taking the first steps into a medical career with eldest, Tom graduating from UQ last year and daughter Diana about to enter third year at the University of Sydney. John is in second year – science direct entry – at UQ while Michael is studying science at UQ and is also destined for medicine.
"In growing up in a medical family, I hope they have seen that we are happy," says Doug.  "It's important they go into it for the right reasons.  We haven't set out to influence them.  We've made it clear they must make up their own minds.
"I suppose they've watched us over the years. They've grown up with a vision of medical practice being a fulfilling life.  We might be the boring parents they have at home but we do have really interesting jobs – really fascinating jobs. Personally, I can't think of a better way to spend one's working life."