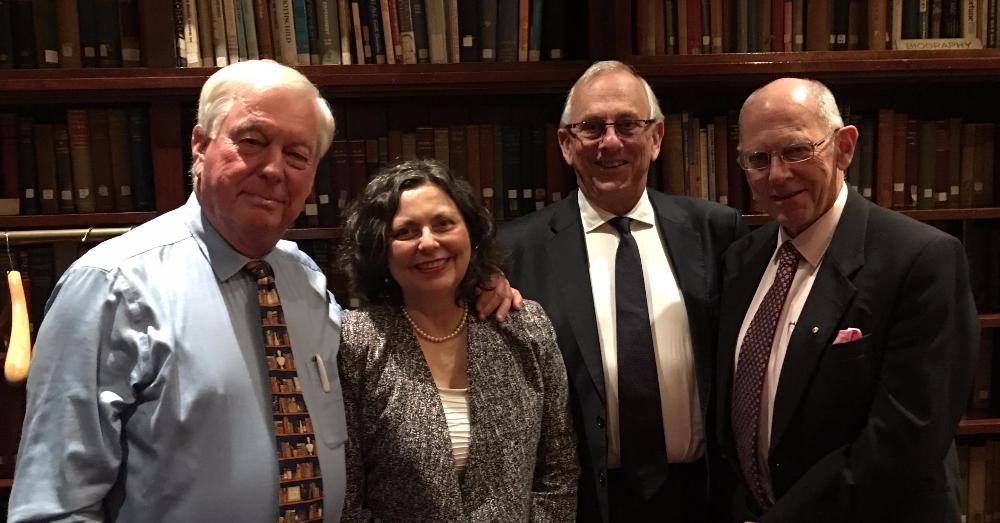 The Douglas family descends from John Douglas and his wife Ann Douglas (née Asher) who arrived in Moreton Bay on the Conrad in 1855 from Morayshire in Scotland. Their son, Alexander Douglas, was born in 1858 on the gold fields at Rocky River near Armidale in New South Wales. Alexander became a Methodist minister and married Ada Eugenie Edmonds in 1884. They had one daughter, Ann and six sons: George, John, Walter, Hedley, William and Ralph.
The eldest son, George Alexander Clarence Douglas (1885-1966), took his medical degree at Edinburgh, Scotland (1912) with distinction and was awarded the Vans Dunlop Medal and Scholarship. He was then awarded a Bachelor of Medicine by UQ in 1923. He completed his Master of Surgery at Melbourne University (1927) and became a Fellow of the Royal College of Surgeons in 1928. He practiced at the Brisbane General Hospital from 1912 to 1955. 
"My uncle was a pioneer of orthopaedic surgery in Queensland, in particular the closed management of bone fractures," said William (Bill) Douglas (MBBS 1956). "During the First World War he served in the Australian Army (1917-1918). He was one of the first three Fellows of UQ's King College. Together with Dr AV Meehan he was a co-founder of the Montrose Home for Crippled Children and stayed on the committee until his death. He was awarded the Order of the British Empire in 1939 for his services to orthopaedics in Australia."
George's eldest son, George Alexander Scoullar Douglas (1916-1982), completed his medical degree at Melbourne University (1942). He served in the Australian Army (1943-1946) and after the Second World War worked as a general practitioner on the Redcliffe Peninsula. His granddaughter, Helen Louise Maclean-Buttfield is a medical practitioner in New South Wales.
The third son of Alexander and Ada, Walter Douglas, married Meta Brookes and three of their sons are UQ Medicine graduates: Edward, David and Jonathan. Jonathan's son James is also a graduate.
Edward Alexander Brookes Douglas (1929 - 2011) first did a degree in dentistry (1951). He then studied medicine at UQ and completed his MBBS in 1957. Edward specialised as a radiologist working in the United States of America in Boston where he was a pioneer in the use of computed tomography. From 1983 until his death in 2011 he practised as a specialist radiologist in Sydney.
David Brookes Douglas completed his MBBS 1962.  He has practised as a specialist physician in occupational medicine since 1976, having previously been a procedural GP in country Queensland. David has had a variety of roles including former Deputy Director of Medical Services and Head of Scientific Policy for UK Government Health and Safety Executive; Colonel Consultant to the Australian Army; he was Foundation President of the Australian College of Occupational Medicine and is a recipient of John Sands College Medal, RACP. He is currently working as a consultant physician in occupational medicine. David's wife, Ki Douglas (née Aghassy) is a University of Sydney MBBS graduate (1979). Ki is also a recipient of the John Sands College Medal of the Royal Australasian College of Physicians.
Jonathan Brookes Douglas graduated in 1964. He was the Chairman of the Board of the Wesley Hospital 1998 – 2002 and is currently the Chairman at Q-COMP since 2001. He was also a recipient of the John Sands College Medal from the Royal Australasian College of Physicians. In 2005 he was made a Member of the Order of Australia for service to medicine, particularly through a range of medical and administrative roles, professional organisations, and specialist training programs for physicians.
Jonathan's eldest son, James Alexander Douglas graduated in 1990. He was the Director of The Prince Charles Hospital (TPCH) Sleep Disorders Clinic (2002 – 2015) and is a Senior Staff Specialist TPCH in thoracic and sleep medicine, VMO Holy Spirit Northside and private practice.
The youngest son, Ralph Edmonds Douglas (1896 – 1964), graduated in medicine from Sydney University in 1926. During World War One he served as a second air mechanic in the fledgling Australian Flying Corps and had the notable distinction of driving the truck carrying the body of the German Air Ace Captain Manfred von Richthofen (the Red Baron) to his funeral which was conducted with full military honours by the AIF. He later became Lt Col in the RAAMC.
"Much of his working life was spent as a general practitioner at Ashgrove where he had a large obstetric practice," Bill said. "The area was then known as 'Nappy Valley'." In 1945 he moved to Wickham Terrace working in Firhall until his retirement. He did much to help returned soldiers during this time. His hobby was a lifetime interest in photography. Ralph's wife, Muriel Gertrude Douglas (née Webb), was the daughter of Dr William Simpson Webb (1852 – 1938). Through her, the Douglas family is connected with another large branch of the Queensland medical tree.
Fifth son, William Joseph Fletcher Douglas (1894 – 1947), was a teacher before World War One. He served in France with the Second AIF and was wounded in action at Pozières in July 1916 and again at Ypres in September 1917. After his convalescence he attended Sydney University completing his MBBS in 1926. He returned to Queensland where he worked as a general practitioner at Newmarket and was an honorary medical officer at the Brisbane General Hospital. William married Frances Alice Douglas (née Morley) and their eldest son, William (Bill) Alexander Charles Douglas graduated in 1956.
"I studied medicine at UQ with the assistance of a Legacy scholarship (1951)," said Bill. "I was awarded the Harold Plant Memorial prize in 1956 and awarded Empire Rheumatism Council Fellowship to United Kingdom in Rheumatic Disorders in 1962. I also established the Department of Rheumatology at Princess Alexandra Hospital in 1972."
"The teaching facilities have changed a bit. My first year (1951) was mostly spent at the George Street campus where we did botany and biology in the dilapidated main room of old government house. Physiology was taught in another old building near the Bellevue Hotel. Physics and biochemistry were the only subjects taken at St Lucia. Second year was spent at the anatomy school which was a world war two army hut in Victoria Park and there were a few lectures at the Medical School. Third year was pathology and fourth year was social and tropical medicine taught at the Medical School. The final two years were spent at the hospitals at Herston and also the Mater. We worked hard, but also had time for lots of fun with sport and other entertainment. There was a high standard of teaching and I had great role models."