The workforce is evolving at a rapid rate, presenting our students with both challenges and opportunities. Our graduates must have the knowledge and skills to compete for current and emerging roles, and be able to anticipate job opportunities that don't yet exist.
The Faculty of Medicine is undertaking a project to develop a strategy and proposal for an Employability Program for all students in the Faculty (domestic and international) that will provide opportunities and support for them to enhance their employability and be ready to begin their contribution to the improvement of health and medicine in their community and be impactful throughout their careers.
Delivering on the UQ Student Strategy Vision
As outlined in the UQ Student Strategy 2016-2020 White Paper this project will align with Goal 1: Game-Changing Graduates, Initiative 1: Work integrated learning and student employability program expansion. The Faculty of Medicine will develop an employability strategy and establish ongoing work programs to provide comprehensive opportunities to develop workplace awareness, workplace skills, attributes and industry insight by expanding work integrated learning and other student employability opportunities.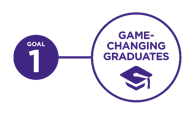 What role can you play?
We encourage you to read the project overview to gain an understanding of the project and obtain an increased understanding and awareness of the significance of Employability over the lifecycle of the student experience.
Faculty of Medicine staff, students, alumni, student associations and key employers are encouraged to engage and participate in shaping what Employability means at the Faculty of Medicine by providing feedback, and attending workshops, consultations and focus groups.