How you can get involved - MD2025
Update on Engagement to date (as at December 2019)
We have been delighted with the level of energy and engagement among the more than 750 people who have participated in our first and now second series of workshops on the new curriculum. 
We have also received over 80 written submissions and have reached out to almost 6,000 stakeholders across our broader medical program community.

The wide ranging and valuable discussions and feedback we have received has given us plenty of ideas and insights into the direction we need to take as a modern medical program.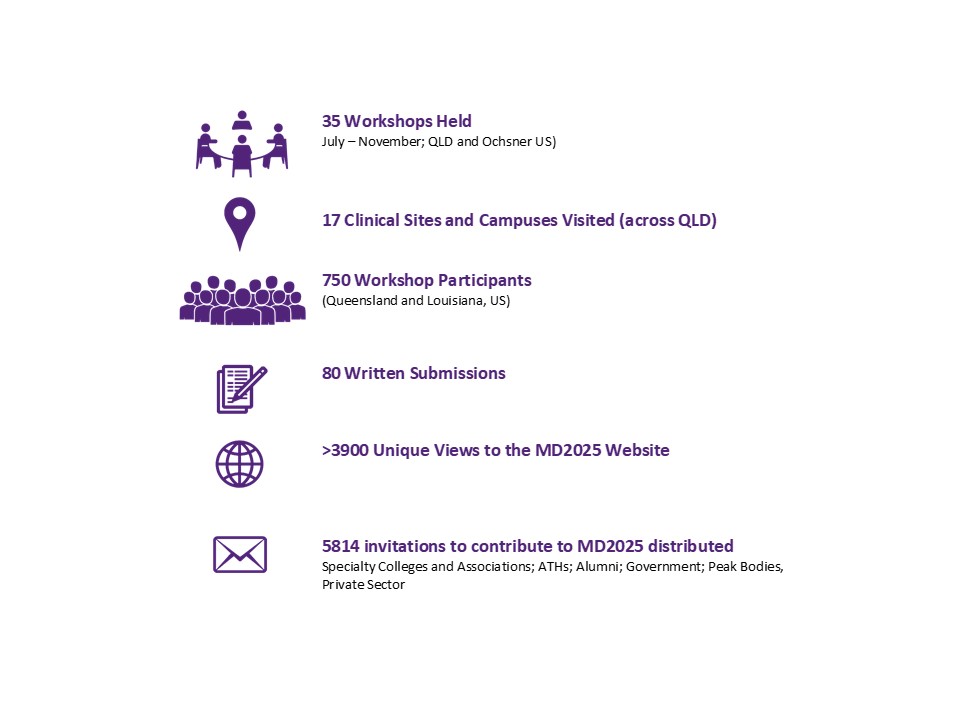 Click here to read more about the stakeholder feedback received to date.
Participating in a Workshop
We are well progressed with our next series of workshops on the design.  If you have missed a workshop and would like to learn more about where the design process is up to, please refer to the workshop pre-reading which includes some early drafts of elements of the future design (available here).
Run your own Workshop
Teams and colleagues across the Faculty have also been running their own workshops on the future of the medical program and sharing their ideas with the project team.  To help you run your own session, the following is available:
Submitting Feedback
If you also have ideas, feedback or questions or want to share the outcomes from your own workshop, click on the button here or send through to the project mailbox (med.md2025@uq.edu.au).