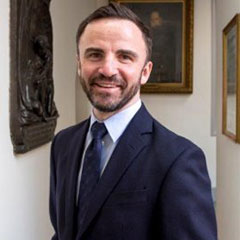 The University of Queensland Faculty of Medicine has appointed Professor Stuart Carney, from King's College London in the United Kingdom, to the position of Medical Dean.
Acting Executive Dean Professor Robyn Ward announced the appointment following a comprehensive international search which generated interest from a strong field.  
"Professor Carney joins UQ from King's where he is currently the Dean of Medical Education, overseeing the largest MBBS program in the UK," Professor Ward said.
"At King's he has led a major turnaround to transform the student experience and medical program, and before that he was Vice Dean of Education of the newly created University of Exeter Medical School.  

"A psychiatrist by training, Professor Carney holds a strong track record in medical education as well as extensive experience as a clinical teacher, examiner and curriculum developer."
Professor Carney completed his Bachelor of Medicine, Bachelor of Surgery at Edinburgh University and went on to obtain his Master of Public Health in Quantitative Methods at Harvard University.

As Medical Dean at UQ, Professor Carney will be responsible for academic management and will have oversight of all aspects of the program through the Office of Medical Education.
He will also serve as Deputy Executive Dean and work as part of the Faculty executive team dedicated to ensuring a world-class comprehensive and integrated medical program.
Professor Carney said he wants to help students to become the best possible doctors they can—safe and effective from day one.
"I want them to be lateral thinkers who are capable of pushing the boundaries to improve patient and population health, and become the medical leaders of today and tomorrow."
Professor Carney will start in the position in the New Year.
Media: Kim Lyell, k.lyell@uq.edu.au, +61 7 33465214, 0427 530647.