Two University of Queensland teachers have been given top marks for their dedication and innovative approaches to student learning at the Australian Awards for University Teaching.
Associate Professor April Wright and Associate Professor Timothy McIntyre received awards for Teaching Excellence at a ceremony in Canberra on Tuesday evening (26 February 2019).
"I've been privileged to be involved in the learning journeys of thousands of business students and to support them to develop their understanding of management theory and practice in ways that bring value to employers when they graduate," Dr Wright said.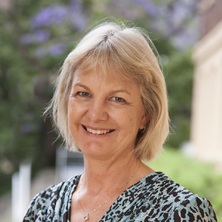 "It's an honour to receive national recognition for my work as an innovative educator and for my scholarship and research activities associated with teaching and learning."
Associate Professor McIntyre received his award for developing new approaches to teaching, enriching programs and creating online engaging and informative interactive modules that allow physics students to prepare for his classes.
"I'm always looking for new ways to enhance the learning experiences of my students, and the use of modern technology is an important aspect of my approach," Dr McIntyre said.
"I enjoy working on these ideas, and it's an absolute honour to receive recognition in the form of this award."
Acting UQ Deputy Vice-Chancellor (Academic) Professor Doune Macdonald said she was delighted to see two outstanding teachers recognised at a national level.
"These awards are incredibly well-deserved and we're extremely proud of April and Tim,'' she said.
"They're accomplished teachers who have spent their careers dedicated to delivering the best possible education for students.
"These awards not only put value on the work they do, but also highlight the extraordinary contributions made by all of our teachers."
Universities Australia Chair Professor Margaret Gardner said inspiring teachers changed lives.
"Our greatest university educators not only prepare students for the careers that await – they also spark a deep passion for ideas, knowledge and evidence in those they teach," she said.
UQ was also awarded three AAUT Citations for Outstanding Contributions to Student Learning which recognise and reward diverse contributions made by individuals and teams to the quality of student learning.
Associate Professor Chris Landorf from the School of Architecture was awarded for leadership in innovative, contextualised, inquiry-based learning in construction-related disciplines, including creation of a 4-dimensional digital environment that enables virtual access to live building sites to facilitate work-readiness in graduates.
Dr Anna Rumbach from the School of Health and Rehabilitation Sciences was recognised for developing an interactive and future-focused learning environment that enhances speech pathology students' preparedness to successfully transition from the classroom to the clinic.
Dr Tammy Smith from the Office of Medical Education was named for her three decades of work in collaborative leadership, innovative curriculum design and exemplary student support practices that have enhanced the medical student experience and environment.
The Australian Awards for University Teaching have been recognising outstanding teachers in higher education for more than 20 years.
Media: UQ Communication, communications@uq.edu.au, +61 7 3346 7890, 0413 601 248.