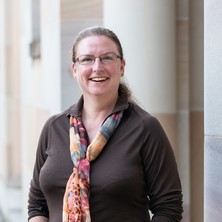 Faculty of Medicine Senior Lecturer - Indigenous Health Education Dr Leanne Coombe has had her study, Educating for Indigenous public health competence – how do we stack up in Australia? featured in Wiley's NAIDOC Week content collection. 
The special content collection, built around this year's official theme Always Was, Always Will Be, features recently published papers from Wiley's Australian and New Zealand journal portfolio on a range of subject areas, and are free to access throughout November. 
Dr Coombe said her work was inspired by the experience of working with rural and remote Aboriginal and Torres Strait Islander communities
"Initially it was as simple as moving out to work in rural and remote areas after graduating as a clinician," Dr Coombe said. 
"However, after meeting a traditional healer and elder from Cape York who asked me to do something for him, I promised I would and this became an oath I continue to uphold today."
Dr Coombe said this year's NAIDOC Week theme, Always Was, Always Will Be, highlighted the strong spirit of Aboriginal and Torres Srait Islander peoples.
"This year's theme is a reminder that Aboriginal and Torres Strait Islander peoples were always here from the beginning.
"Thanks to their incredible strengths and resilience they always will be here and should be celebrated as the longest surviving cultures in the world," Dr Coombe said.
Read the full collection of more than 80 free-to-access research papers.