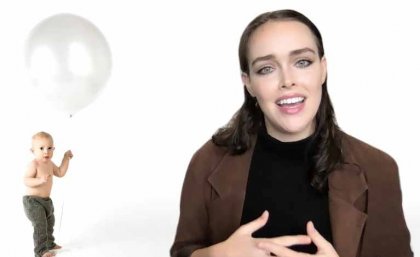 MD-PhD candidate Rosie Stoke has won The University of Queensland's 2021 Three Minute Thesis (3MT) Competition and will go on to represent UQ in the Asia-Pacific 3MT Competition next month.
The Faculty of Medicine student won the judges' favour via video submission, speaking on foetal development in their  presentation "Blowing Balloons for Small Babies".
Ms Stoke's research involves studying the causes of "small" baby births and the health risks these small babies have throughout their lives, in an effort to eventually prevent and lessen those risks.
Ms Stoke said that participating in the 3MT competition helped her in getting back to the basics of her research and why it is important.
"It is so easy to get focussed on small sections that you're working on or keep a really technical mindset, but having that stripped-back, holistic perspective really helps motivate myself towards my bigger goals," she said.
Participating in a 3MT competition during a pandemic did not come without its challenges, one being the uncertainty of being able to present live or not.
"Competing virtually for the 3MT definitely presents a challenge, as you lose the energy and adrenaline from having an audience.
"That being said, going through the motions of virtual presentations and working on that skill is clearly going to be vital for our careers," she said.
As the winner of the UQ 3MT Final, Ms Stoke walked away with a $5000 prize.
2021 UQ 3MT Finalist - Rosie Stoke from Three Minute Thesis (3MT®) on Vimeo.
When asked what she would use the prize money for, Ms Stoke said, "I want to bring into our research group some biostatistical and data management support to move us into the world of machine learning techniques to pioneer change in the way that obstetric and neonatal hospital data is managed in our institution, and hopefully, across Australia."
The UQ Graduate School Dean, Professor Helen Klaebe, said that the 3MT competition has proven to be an effective avenue for PhD candidates to showcase their research within UQ, as well as connecting to the wider community.
"The resilience our students have developed over the past eighteen months was evident in the quality of this year's entries, despite our candidates needing to adapt their presentation skills for an online audience.
"Congratulations to all of the 8 finalists, who continue to demonstrate the real-world impact of UQ's research.
"And a special congratulations to our overall winner Rosemary Stoke who will now represent UQ at the Asia-Pacific Final," she said.
Genevieve Vuong from the School of Health and Rehabilitation Sciences won the Runner Up Award, sponsored by Boeing Australia, with her presentation "TeleCHAT with Aphasia".
2021 UQ 3MT Finalist - Genevieve Vuong from Three Minute Thesis (3MT®) on Vimeo.
The People's Choice Award, donated by Alumni Friends, went to Samuel Brookfield from the Faculty of Medicine for his presentation "Giving up on Willpower: Using Ethnography to Change the Debate on Methamphetamine Addiction".
2021 UQ 3MT Finalist - Samuel Brookfield from Three Minute Thesis (3MT®) on Vimeo.
Ms Stoke will now compete against 50+ other PhD candidates representing universities across Australia, New Zealand and Asia in the Asia-Pacific 3MT Competition, with the final on Wednesday 20 October.
The event is via Zoom and you can register to attend now.
Media: Andrew Schnell, 3mt@uq.edu.au, +61 7 3346 0509.