Catalogues and cataloguing
by Robert Craig and Andy Reed
The Acquisitions Policy for the Marks Hirschfeld Medical museum determines the range of the collection based on a checklist of priorities such as national and international importance, and relevance to Queensland and its medical services and health professionals. After acquiring items,  the work of cataloguing and registration is ongoing to identify and be able quickly find all the 7000 or so items in the collection and to avoid the tedious job of hunting through numerous boxes of items for displays, exhibitions or anniversaries. In addition, the collection requires continued checks to ensure correct and comprehensive registration and entry on to the electronic database
Whilst the origins and ownership of each item are a priority complete documentation is an impossible task because of the lack of available information, however we can expect to identify the name and use of each item and possibly the place of manufacture and the earliest date it came into use as well as its physical characteristics, significance and condition. An extensive collection of medical suppliers' catalogues of medical instruments, equipment and furniture are used by the volunteers to record these details on numbered sheets which, with any accompanying documentation, is added to the museum database. There are about 80  catalogues in the collection. The most useful are those of the major suppliers to Queensland doctors and hospitals. For medications and testing chemicals we have several pharmacopoeias. Most of the instruments came from Britain with a large number from Germany followed by the USA. We have an Arnold and Sons 1905 catalogue and an Allen and Handbury's from 1902 but this copy is too fragile for regular use, so an Allen and Handbury's from the 1930s is used more often.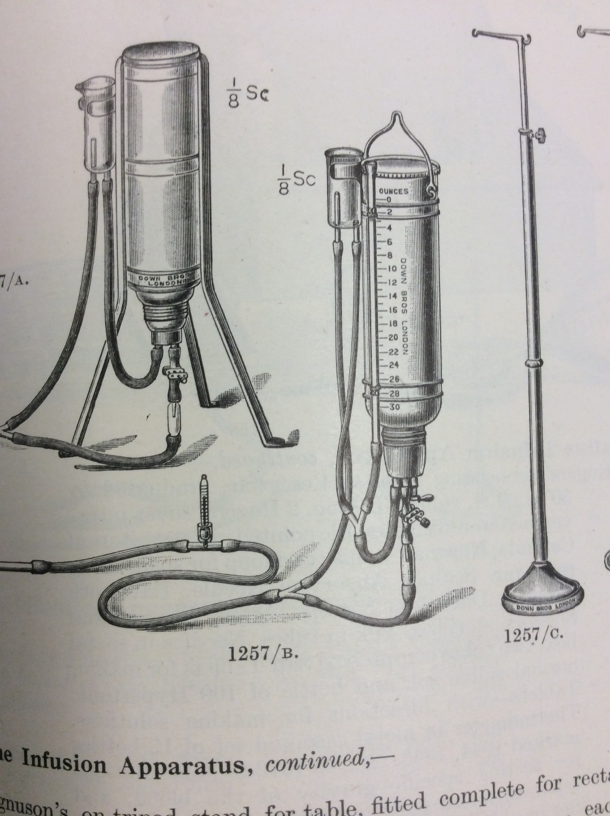 Downs Surgical is represented by an appendix from 1910 but a large two volume publication covering their products sold in 1955 is comprehensive for that era, however with a strong base in Brisbane many of the items in the collection can be found in the more limited offerings in Taylor and Elliott's catalogues from 1922 to 1948 (also known as Elliot's or T& E Surgical as a division of DHA, Drug Houses of Australia). Zimmer and Aesculap are the most frequent German manufacturers and Medical and Hospital Suppliers, V.Mueller, Codman (a division of Johnson and Johnson) and Becton and Dickinson for syringes represent USA suppliers but some items originate from other countries such as Japan, France or Czechoslovakia and Italy. We have a useful reference book for Antique Instruments by Elizabeth Bennion and several short texts on specialised instruments and their uses.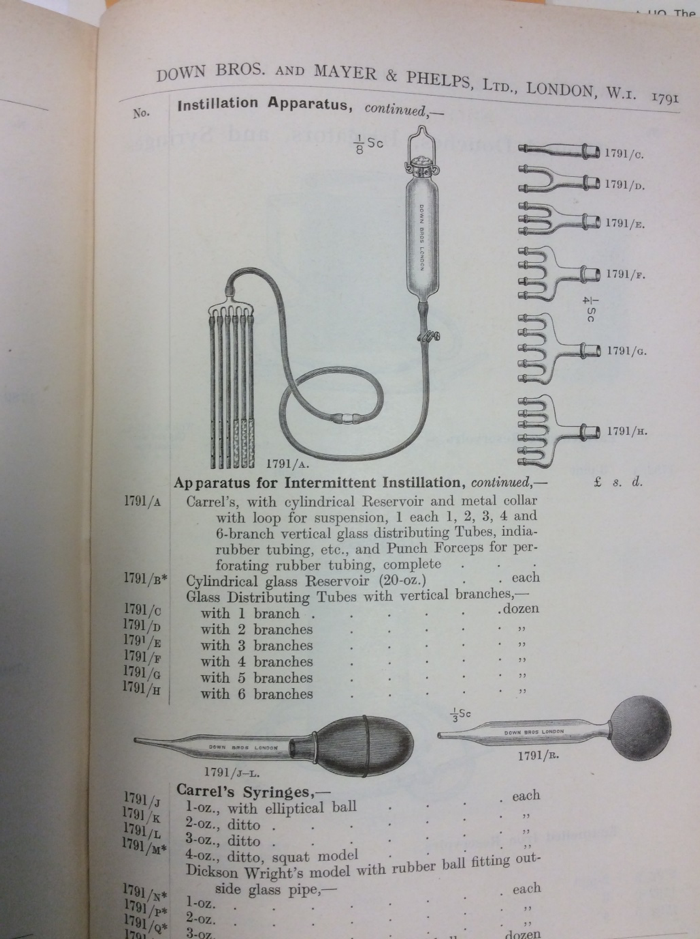 The work of categorisation is analogous to the identification of other collectables such as silver, china or postage stamps (but without the standardisation of hallmarks of recognised assay offices, ceramic marks or inscriptions and watermarks ). Even the identification of the metal, wood, plastic or ivory/bone used is open to doubt but we check whether it is magnetic and rely on inscription (such as 'Stainless Steel') and note a plated appearance and characteristics of grain, colour patina and smell. Manufacturers trademarks are often helpful and frequently the country of manufacture is impressed on the item. Sometimes the surgeon or hospital has engraved a name or department on it.  A quick inspection may be adequate for many items and often the original box or packaging accompanies the article or better still a letter from the donor as to who owned and used them. However, for unfamiliar instruments and unmarked items much volunteers' time has been expended looking through the illustrated catalogues. (Help from an orthopaedic surgeon or theatre nurse would be appreciated if anyone is interested!)
The delight experienced by finding the exact item in an old catalogue after an hour or more of searching is one of the many reasons why volunteers continue to work on the museum project which otherwise may seem a tedious occupation.  An example is the Mackenzie Ink Polygraph (The MHMHM has a nearly complete boxed example and I found a picture of a fully set up example on the London Science Museum website) and we found it in an Allen and Handbury's 1910 supplementary catalogue: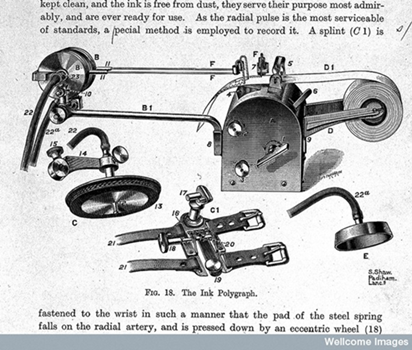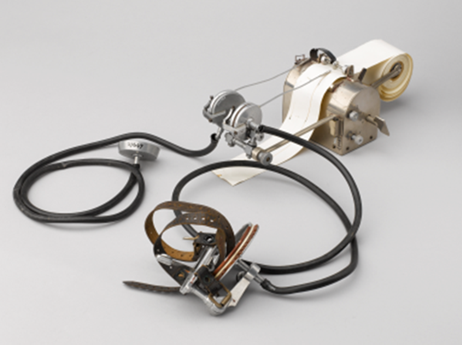 James Mackenzie developed a machine to accurately monitor and record the heart movements from pulse, apical beat and heart sounds early in the 20th century. After earlier experimental prototypes Thomas Lewis produced a clinically useable instrument to measure the electrical discharges from the heart muscles and nerves through standard skin electrodes. In a 1910 Surgical Manufacturing Co catalogue these illustrations show early ECG machines. It was collaboration between Lewis and Mackenzie which correlated the two sets of observations and allowed them to set up the first specialised cardiac clinic at the London Hospital.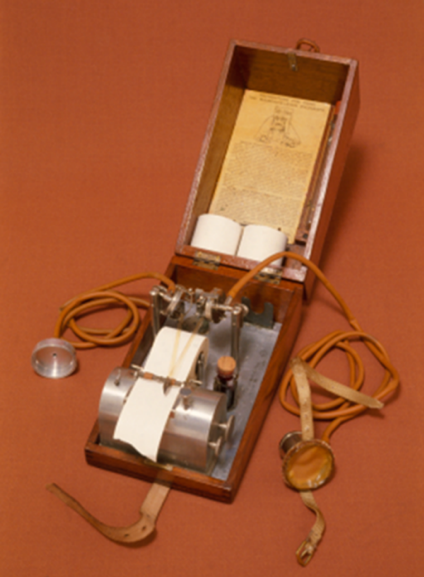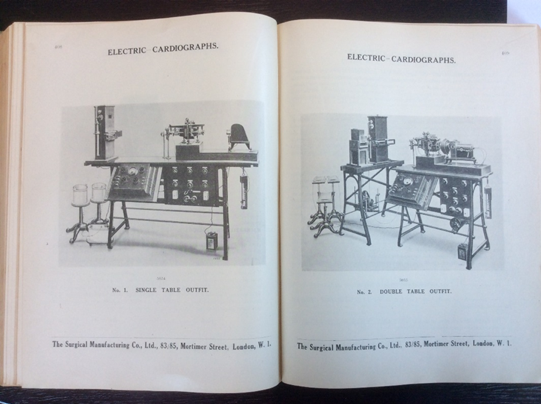 However, it is not just for the use of museum workers that illustrated catalogues have proved to be invaluable.  In the past medical practitioners have used illustrated catalogues to obtain equipment from local sources, rather than waiting weeks or months for instruments to be sent to them, doctors have been able to 'make do' using local talent with materials at hand.  As an example of incidents where a doctor has obtained a device with nothing but a picture of it, Dr Joseph Arratta, who was the resident medical officer in Muttaburra (near Longreach, western Queensland), wrote of such a case in his personal memoirs:
"I remember one unusual accident case from whom I had to enlist the services of my handyman.  The patient had been thrown from his horse and a wooden stake had caused a wound involving the mouth and the side of the throat within.  Removal of the lacerated tonsil and other measures left some bleeding that could only be controlled by a special clamp. I took my problem to my handyman together with my illustrated catalogue. He used steel spring wire, solder, and a dozen metal tops from beer bottles.  The latter were perforated in four places so that gauze pressure pads could be attached.  The instrument worked perfectly." [Smith, A & B.J. Dalton (eds) 'Doctor on the Landsborough', James Cook University, 1997]
Other benefits are the camaraderie developed between volunteers and the sense the work is worth doing to prevent the permanent loss of the narrative of the development of medicine in Queensland through neglect or destruction. Please let us know if you are interested in joining our group
Some Items from the collection:
This instrument set has so far defied our efforts to identify it. The providence is not recorded; the stainless-steel box is about 300mm by 20mm and contains right angled applicators with mostly graded club shaped detachable heads Any ideas?
A teaching model
Two unusual syringe sets