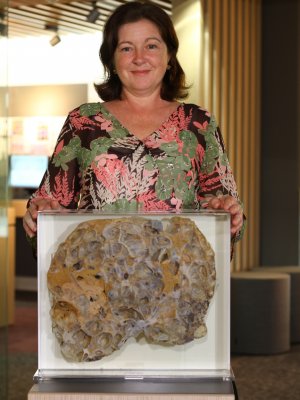 The weight of a healthy human liver is typically 1.5 kilograms or less. After feeling like she was "pregnant for seven-odd years" Fiona Murray had hers removed and it topped 12 kilograms.
Mrs Murray knew she could never become an organ donor due to a hereditary disease, but she has selflessly offered her organ to be used by The University of Queensland in a different way.
"I was diagnosed with polycystic kidney disease (PKD) at 25, and in my 30s the condition worsened as cysts developed in my liver," said Mrs Murray, now 47.
"I was unable to bend over to perform simple tasks like tying a shoelace, and looked like I was pregnant for seven-odd years until receiving a kidney and liver transplant in 2014."
When doctors removed the New Beith resident's liver, it weighed 12.08kg.
As well as focussing on her recovery, Mrs Murray made a decision to donate her diseased liver to UQ's Integrated Pathology Learning Centre (IPLC), within the Faculty of Medicine.
The IPLC houses 2500 pathology specimens and uses the latest technology to create interactive learning resources to teach students about human diseases.
Mrs Murray said it was a "no-brainer" to donate her liver.
"For me, I knew I wasn't going to be able to (be an organ donor) because of my condition, so I donated to the IPLC because that was my way of sharing and giving people knowledge," she said.
IPLC curator Dr Julie Ayre said the centre was an important resource for students and used emerging technologies to illustrate the disease mechanisms behind case studies.
Since the transplant, Mrs Murray has been able to take part in sport, continue volunteering as a wildlife carer and plans to return to work after completing a TAFE course in medical administration.
She encouraged families to discuss organ and tissue donation during DonateLife Week (30 July-6 Aug).
"I think organ donation is an exceptionally unselfish gift that everybody in a time of grief makes," she said.

"It's a decision that everybody should try to think of before anything happens."
Mrs Murray said she wanted to thank her donor family, but due to strict privacy laws she was unable to meet them, and instead wrote an anonymous letter of thanks.
In Australia only one in three people have joined the Australian Organ Donor Register and more than 1400 people are waiting for an organ transplant.
Media: Sam Benger, s.benger@uq.edu.au, +61 7 3365 5118.