Pitching and storytelling workshop
25 November 2020

9:30am

–

11:30am
About this session
Compelling communication is a key skill for the future of work.
Whether we are pitching a business idea, presenting a project to our colleagues, or talking to customers, we need to be able to interest, convince and influence with our words.
In this workshop your students will:
Understand the fundamentals of narrative patterns and tools
Learn how to communicate their message in a simple and concise way
Learn how to build a compelling story and how to persuade their audience
Practice and master the art of storytelling.
---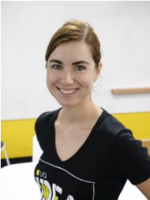 Cayetana Martinez is passionate about entrepreneurship education, agile learning and business.
She has a BA in Philosophy, two MAs in Humanities and an MBA. Throughout her professional career, she has worked in different roles in the startup space in Europe and in Australia. Cayetana is committed to supporting students and young adults to acquire an entrepreneurial mindset and to launch sustainable and meaningful businesses. She has worked as an educator and manager in the entrepreneurship space since 2011. She is a TEDx speaker and a SheEO activator, a network that invests and supports women entrepreneurs across the globe.
She currently works at the University of Queensland as a Ventures Programs Designer.
Join via Zoom: https://uqz.zoom.us/j/99579052750?pwd=anhEVmdsOUxVYS9CZ0M2aWxJK1V4Zz09 
Password: 286760
About Faculty of Medicine HDR Symposium Week
The 2020 Faculty of Medicine HDR Week is an online event showcasing presentations from our HDR students within our faculty, including keynote speakers and a jam-packed program of workshops and sessions to support students through the various stages of their PhD and career options thereafter.
All Faculty of Medicine HDR Students are encouraged to attend all sessions throughout the week. Staff are encouraged to support our HDR students at the lunchtime presentation sessions.
Venue
Via Zoom: https://uqz.zoom.us/j/99579052750?pwd=anhEVmdsOUxVYS9CZ0M2aWxJK1V4Zz09