University of Queensland paediatrics and child health researcher Katherine Benfer will travel to Bangladesh next year to lay the groundwork for babies with cerebral palsy to receive better diagnosis and treatment.
Dr Benfer will work in communities across Bangladesh, thanks to a prestigious Endeavour Queen Elizabeth II Diamond Jubilee Scholarship she received in Canberra today.
She is one of 11 UQ researchers and PhD students who will work overseas next year on 2016 Endeavour Scholarships and Fellowships.
Dr Benfer said children at risk of cerebral palsy could be reliably identified at 13 weeks of age, but many did not receive diagnosis or intervention until much later.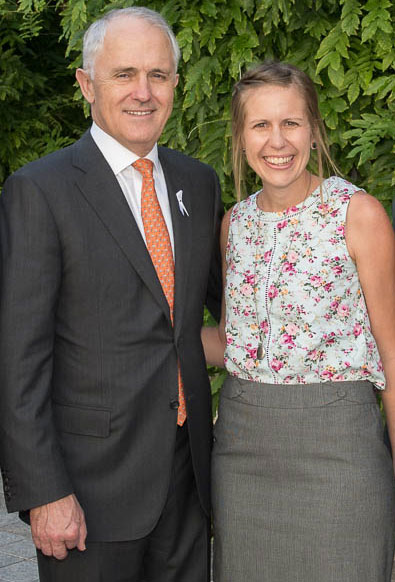 "We are missing a significant window of opportunity for treatment, when infants' neuroplasticity is optimal," she said.
Dr Benfer plans to establish a community-based, parent-delivered intervention program in Bangladesh.
She first saw a need for such a program when she was there researching for her PhD, under the supervision of the UQ School of Medicine's Professor Roslyn Boyd.
"The novel feature of Kath's program is that it is parents training parents in the home," Professor Boyd said.
"This means it is sustainable and can take on a life of its own in low-resource environments such as Bangladesh, or Uganda – where Kath has been working recently."
Dr Benfer said cerebral palsy was the most common cause of childhood disability.
"Eighty per cent of the estimated global burden of cerebral palsy is in low-resource countries," she said.
"My work in Bangladesh will bring together the strengths of four organisations providing world-class leadership in the disability sector: the Queensland Cerebral Palsy and Rehabilitation Research Centre at UQ, the Cerebral Palsy Alliance (Australia), Shishu Hospital (Bangladesh) and the Centre for Rehabilitation of the Paralysed (Bangladesh)."
Dr Benfer spent 18 months in Bangladesh in 2007 and 2008 as an AusAID volunteer, and later worked there while studying for her Masters of Public Health and her PhD.
She said more than 600 babies with cerebral palsy were born in Australia each year.
"With the imminent implementation of the National Disability Insurance Scheme, innovative and sustainable solutions and early interventions that have potential to reduce the disability's life-long impact are of peak priority," Dr Benfer said.
The scholarship awarded to Dr Benfer is for "an exceptional candidate in any field of study to undertake an international research programme that will contribute to the advancement of women's leadership in Australia".
In other categories:
Australian students and researchers received 198 Endeavour Scholarships and Fellowships overall, enabling them to travel and study internationally. Eight were awarded at UQ.
A further 500 Endeavour awards will enable international students to study in Australia. Forty will come to UQ.
The full list of outbound and inbound recipients is here.
Applications for 2017 Endeavour Scholarships and Fellowships open in April.
Media: Kath Benfer, +61 (0) 427 749908; UQ School of Medicine Brian Mallon, b.mallon@uq.edu.au, +61 7 3365 8350.