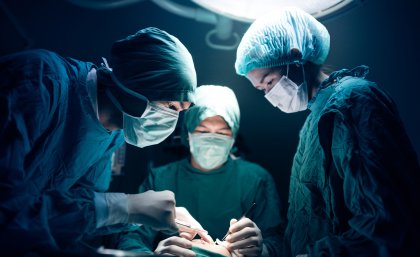 Topical antibiotics could help to prevent post-surgery infections but potential side-effects need to be considered, a meta-analysis of clinical trials has found.
University of Queensland and James Cook University researchers investigated data from 14 trials, and found some evidence that antibiotic ointment reduced the incidence of infections by around four per cent.
UQ Chair in General Practice, Professor Mieke van Driel, said surgical site infections account for up to a fifth of all healthcare-associated infections, but rates following clean surgery are very low.
"Oral antibiotics are given when patients or procedures are deemed of higher risk of post-surgery infections, but there are limited guidelines on their prophylactic use," Professor van Driel said.
"There is no current guidance on the prophylactic use of topical antibiotics, and use needs to be tempered by consideration of potential side-effects."
Surgery site infections can delay healing, exacerbate scarring and cause deeper infections.
Professor Clare Heal from James Cook University College of Medicine and Dentistry said the studies examined the effect of topical antibiotics on wounds closed with sutures following surgery.
"Some of the studies we looked at had very low baseline rates of infection, raising the question as to whether preventative antibiotics are necessary in populations with clean surgery wounds," Professor Heal said.
"Our research did find that risk of infection was reduced when topical antibiotics were used compared to when they weren't, and also compared to when topical antiseptics were applied."
There were no patterns of antibiotic resistance or anaphylaxis associated with topical antibiotic use in the studies, and insufficient evidence in respect to whether they cause allergic contact dermatitis.
The trials analysed in the study from Australia, the United Kingdom, the United States, Europe and Nepal involved more than 6400 participants.
Professors van Driel and Heal said their review of the studies has provided some additional evidence, but practice should be guided by clinical judgement of the risks and benefits.
The meta-analysis, an abbreviated version of a Cochrane review by the same authors  is published in the British Journal of Surgery.
Media: Professor Mieke van Driel, m.vandriel@uq.edu.au; Professor Clare Heal, clare.heal@jcu.edu.au; Kim Lyell, k.lyell@uq.edu.au, 0427 530647.