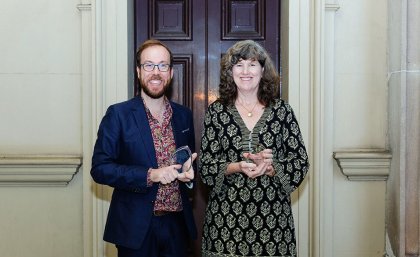 Faculty of Medicine staff took home two awards at The University of Queensland celebrated excellence in teaching and learning last week.
Deputy Vice-Chancellor (Academic) Professor Joanne Wright said the annual Teaching and Learning Awards honoured teachers from across the University for their innovation, commitment and drive.
"The personal and professional commitment of our academics ensures the University continues to create globally relevant job-ready future leaders," she said.
"UQ's vision of knowledge leadership for a better world demands we provide our students with the knowledge and skills to be enterprising graduates capable of building meaningful, agile careers.
 "We set aside this night each year to recognise and thank those teachers who extend themselves and go the extra mile to create stimulating and inspirational environments for their students.
"It's always an honour to be able to thank our teachers for their invaluable work."
School of Biomedical Sciences Dr Kay Colthorpe received an Award for Teaching Excellence.
Dr Kay Colthorpe from The University of Queensland on Vimeo.
Clinical Science Lead Educators Dr Janet Clarkson, Dr Sharon Darlington, Dr Louise Green, Dr Mary Kelleher, Dr Cherri Ryan and Dr Tammy Smith received a Citation for Outstanding Contributions to Student Learning.
The Faculty also celebrated the week by naming their own Teaching and Learning Award winners on Friday 2 November.
The eight winners from the Faculty of Medicine division were as follows:
Award for Programs that Enhance Learning
Tracey Langfield and Marietta Uys (School of Biomedical Sciences)
Award for Teaching Excellence
Kay Colthorpe (School of Biomedical Sciences)
Allyson Mutch (School of Public Health)
Citations for Outstanding Contributions to Student Learning
Graham Leggatt (School of Clinical Medicine)
Early Career Citations Award
Dominic Chi Hung Ng (School of Biomedical Sciences)
Tutor, Clinical, Research or Professional Practice Supervisor Award
Lisa Akison (School of Biomedical Sciences)
Viny Verghis (School of Public Health)