Queensland's new Governor, Her Excellency the Honourable Dr Jeannette Young PSM, recently visited Rockhampton where she met with senior representatives from the new Regional Medical Pathway, to discuss the rollout of the Australian-first university and hospital partnership that is set to train up to 60 doctors in regional Queensland each year.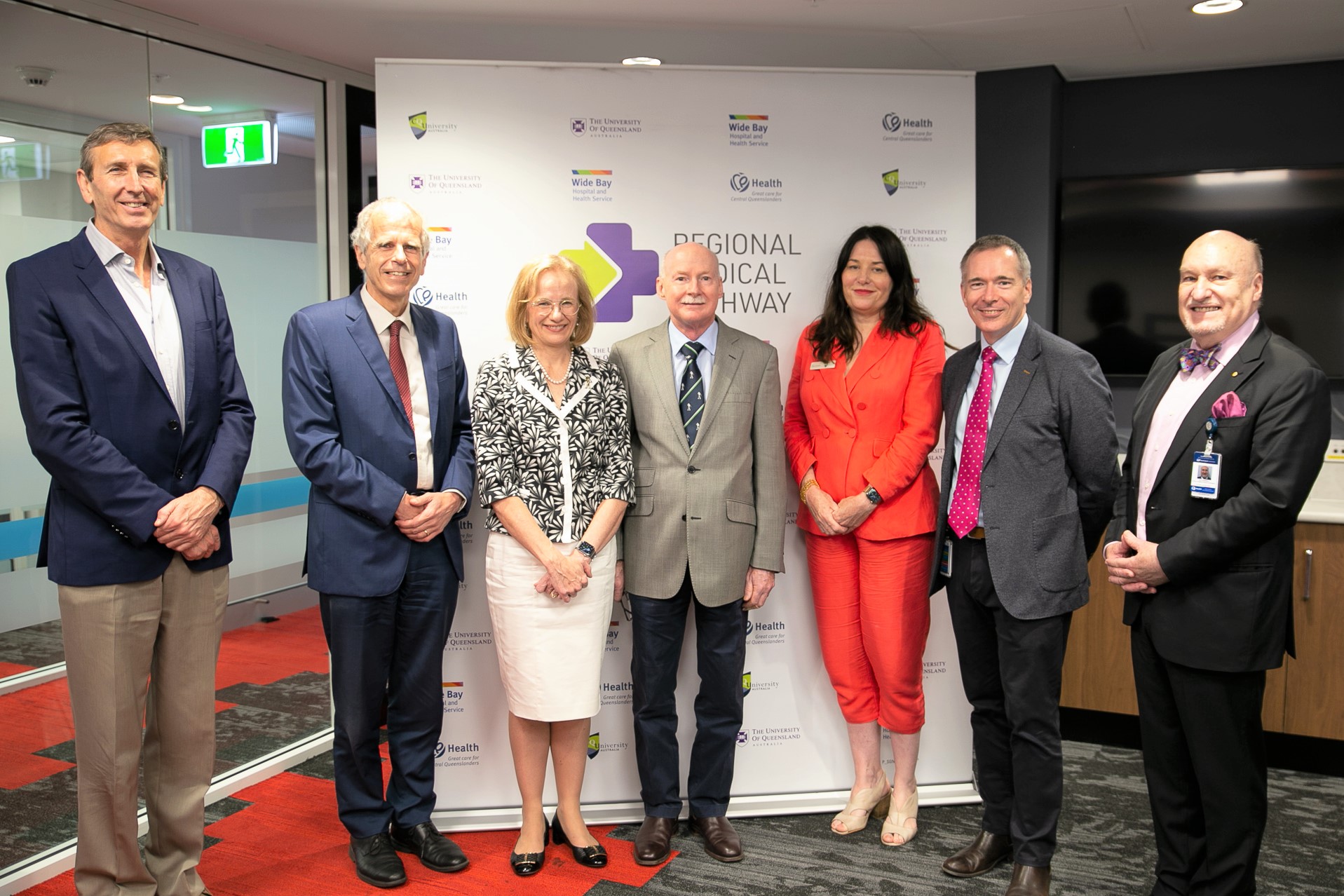 During the visit Governor Young delivered her official letter of support to the Regional Medical Pathway, in one of her first official engagements as Governor.
Her Excellency, Dr Young, first became involved with the pathway during her time as Queensland Chief Health Officer, when she chaired the Regional Medical Pathway Steering Committee, prior to the outbreak of COVID in 2020.
The Regional Medical Pathway is a unique and powerful partnership between CQUniversity, The University of Queensland, and the Central Queensland and Wide Bay Hospital and Health Services with the aim of training more doctors who will study and work in regional Queensland. The richness of the clinical experiences in regional sites has long been recognised as a great foundation upon which to build a career.
From next year, Bundaberg and Rockhampton will receive their first student intake of future doctors who will complete all their study and training in Central Queensland and the Wide Bay regions.
As part of the pathway, students will complete the three-year CQUniversity Bachelor of Medical Science (Pathway to Medicine) course with CQUniversity, before moving into UQ's four-year MD program.
The Hospital and Health Services in Central Queensland and the Wide Bay will provide student placements, internship opportunities, prevocational and vocational training places within their regional footprints. This will include major hospitals in Rockhampton, Gladstone and Emerald (CQHHS) and Bundaberg, Hervey Bay and Maryborough (WBHHS), as well as rural hospitals and multipurpose health services. Importantly, they will also be immersed in the community, particularly the many primary care settings such as general practices.
The foundation year of the CQUniversity Bachelor of Medical Science (Pathway to Medicine) has attracted strong interest from applicants in the key target regions.
CQUniversity's Vice-Chancellor and President, Professor Nick Klomp said the course attracted almost one thousand applications with strong interest from prospective students in Central Queensland, the Wide Bay, and other parts of regional Australia.
"CQUniversity was expecting a strong level of interest in our Bachelor of Medical Science (Pathway to Medicine) as part of the pathway, and we are thrilled with the number of applications we have seen.
"As well as strong interest from prospective students with rural and regional backgrounds, we have also received an encouraging number of applications from aspiring First Nations doctors," said Professor Klomp.
"The interest and response to the pathway has been tremendous and we are very excited to see what impact the program will have in the years to come".
University of Queensland Vice-Chancellor and President, Professor Deborah Terry, said medical workforce shortages were commonplace in regional areas, and that was an issue the partnership wanted to address.
"It is our vision to help overcome these critical skill shortages by nurturing and training doctors who will stay closer to home and work locally after graduation," said Professor Terry.
"The pathway provides the regions with the capacity to train their own medical professionals through the delivery of end-to-end medical education and training.
"Apart from growing our own junior medical workforce, it aims to secure the long-term retention of GP and other specialists in the regions, so that communities can seek the health care they need closer to home.
"UQ is passionate about rural medical education, and ensuring equitable access to health care for regional, rural, and remote communities and we are proud to be part of this initiative."
Central Queensland Hospital and Health Service Chief Executive, Steve Williamson said that the imminent intake of the first cohort of students to the pathway meant that communities in Central Queensland and Wide Bay could now be more confident that future health workforces will be better equipped to deal with community growth and changing healthcare needs.
"The Central Queensland and Wide Bay regions are growing areas and the communities have an expectation that healthcare delivery will meet future demand," Mr Williamson said.
"The Regional Medical Pathway has been specifically designed to secure long-term, locally trained workforces for the regions. I am so proud of our teams to see such an amazing partnership bring this fantastic medical pathway to central Queensland," said Mr Williamson.
Chief Executive of Wide Bay Hospital and Health Service, Debbie Carroll, added that delivery of the course starting from next year, was the first opportunity for aspiring Wide Bay and Central Queensland doctors to be entirely trained locally.
"The pathway will improve accessibility for regionally-based students, allowing them to study, train and practice in their own backyard. Being based in their own community helps these students maintain close support networks of family and friends - which aids their academic and professional success," she said.
"On top of this, staying locally in their regional communities provides greater continuity of care and delivers more high-quality care close to home, which makes a huge difference to our communities."
Access more information about the Regional Medical Pathway at the following pages:
CQUniversity Bachelor of Medical Science (Pathway to Medicine) course