A career filled with a love of teaching and aneurysms
Emeritus Professor Malcolm West passed away at the age of 79 years, on Wednesday 6th January, 2021 in Bunya, Brisbane surrounded by his wife, Jennifer, his daughters, sons-in-law and grandchildren. Professor West's funeral service was held at St Mary's Anglican Church at Kangaroo Point on the 15th January, and this celebration of his life was attended by family and friends, academic colleagues, physicians, patients and community members.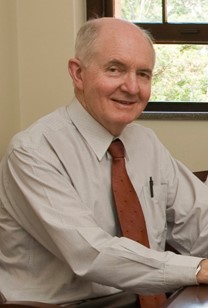 Emeritus Professor West was appointed Professor of Cardiovascular Research at The University of Queensland in July, 1989, a position funded by the National Heart Foundation through government funds granted to celebrate Australia's Bicentenary. Prior to this appointment, Professor West worked at the Hallstrom Institute of Cardiology (University of Sydney), in the United Kingdom at Oxford University, in the United States at the National Heart Lung and Blood Institute (NIH) Bethesda, and as Associate Professor of Medicine at the Flinders University of South Australia.
At The University of Queensland, Professor West was the Head of Department and then the Head of the Discipline of Medicine from 1998, followed by appointment as Mayne Professor of Medicine from 2008 to 2016. Professor West was integral in changing the undergraduate medical program to a postgraduate medical school curriculum, and incorporated problem-orientated approaches to learning. Professor West also played an integral role in the establishment of clinical schools in New Orleans (United States) as well as regional centres such as Hervey Bay. He supported several generations of medical students, junior doctors, physician trainees and physicians in career progression and research activities during his three decades of academic teaching with The University of Queensland.
Over the course of his career, Professor West made significant contributions at an international level in his chosen fields of cardiovascular research, principally on the topics of hypertension, lipid-lowering therapy (co-author in NEJM LIPID study), coronary artery disease, vascular biology, and aortic aneurysm disease. His work incorporated both a clinical and basic science dimension which spanned patient management, cell biology and the genetic determinants of disease. Professor West had published more than 220 peer reviewed papers and published book chapters in high impact journals.
Professor West was a key part of the internationally lauded LIPID study, published in the New England Journal of Medicine, which was a landmark publication demonstrating the key clinical benefit of statin therapy in reducing the burden of cardiovascular disease. In conjunction with several other similarly highly impactful studies, this work has embedded lipid-lowering therapy as a benchmark in care for patients with coronary artery disease. This is a therapy that has been pivotal in reducing mortality from coronary disease the world over. Professor West has been a key member of the LIPID Management Committee that set up this study in 1990.
In the field of hypertension, Professor West made a significant research contribution as a key member of the research team behind the Second Australian National Blood Pressure (ANBP2) study that demonstrated for the first time the mortality benefits of ACE Inhibitors as well as diuretic in older hypertensive Australians. Up until his passing, Professor West was a member of subcommittees that investigated genetic risk factors associated with cardiovascular outcomes in both the LIPID study and the ANBP2 trial.
One of Professor West's most rewarding initiatives was the multidisciplinary aneurysm (Marfan syndrome) diagnostic and management clinic at The Prince Charles Hospital in 1993, the first of this type of clinic to be established in Australia. He made substantial contributions to research in the clinical management and basic pathophysiology of these conditions. He guided the national recommendations for the diagnosis and management of Marfan syndrome in Australia. Professor West's group was the first to show the presence of the over-expression of transforming growth factor beta in aortic tissue derived from Marfan subjects. This important finding has supported the view that early treatment of aortic aneurysm in Marfan syndrome with angiotensin 11 receptor blocking drugs is able to reduce the rate of aortic dilation. With Professor Kim Summers, he initiated investigations that are uncovering the genomic basis of Marfan syndrome and other inherited aortic aneurysm conditions. This work has received global recognition with Professor West presenting at major scientific meetings in the USA, Europe and Asia.
Professor West's contributions were publicly acknowledged by the broader community in 2012 with the award of Membership of the Order of Australia.  In 2016, Professor West was awarded the RT Hall Prize, the most prestigious research away of the Cardiac Society of Australia and New Zealand to recognize the achievements of senior and established investigators.
Through his remarkable career, Professor West was sought after as a mentor for academics, clinicians and higher degree research students. He was known as a humble, caring and dedicated person of the utmost integrity, who was highly respected by his peers for his great humility and incredible work ethic.
Professor West will very much be missed. May he rest in peace.