MRI-UQ Researcher uses breakthrough therapy to cure lymphoma patient
In a world-first therapy conducted by MRI-UQ Researcher and Haematologist Professor Maher Gandhi, patient Scott Griffiths has been successfully cured of a rare type of lymphoma.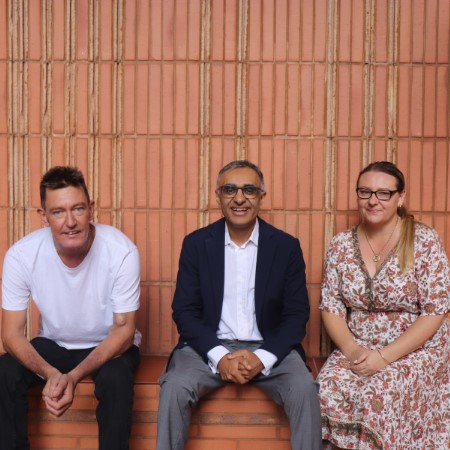 Mr Griffiths was diagnosed with brain lymphoma, a form of blood cancer confined to the brain, following a bout of glandular fever he developed after an organ transplant.
Professor Gandhi said that although glandular fever did not normally cause brain lymphoma, Scott's weakened immune system from the transplant made him more susceptible to the lymphoma developing. 
"The brain lymphoma made him very unwell, he was experiencing regular epileptic fits and we don't believe he would have lived very long without the therapy; this was his only hope for surviving," Professor Gandhi said.
Professor Ghandi's therapy took a dual approach – targeting the cancer and glandular fever.
"First, I used a new type of drug, called a small molecule inhibitor, each day over 10 weeks to try and slowly kill the cancer and re-educate the immune system on how to function," Professor Gandhi said.
"Because the drug works differently to chemotherapy, the patient was able to take it even though he was on dialysis.
"Following this I used a vaccine to encourage the patient's body to attack the glandular fever virus and mop up any cancer cells.
Fortunately, it worked brilliantly in the patient and he has been completely cured and the transformation is remarkable."
Mr Griffiths said that when he was told he had brain lymphoma he was devastated and believed he was going to die.
"Maher told me he wasn't going to use traditional chemotherapy to treat my lymphoma as it would have weakened my immune system further, he started me off on the tablets and I immediately began feeling better," Mr Griffiths said.
"My seizures stopped, and I could see a drastic improvement, when he told me I was completely cured I was ecstatic.
"I am hoping I can have another transplant soon and improve my quality of life.
"Maher was a wonderful doctor; he took me up to his laboratory and showed me around and said there were 40 different researchers working on my trial. I loved being involved in the research, I would do anything to help the outcomes for myself or any other patient going through this."
Professor Gandhi, who conducted his therapy at the Transitional Research Institute, has had a long-standing interest in how lymphoma occurs and how a patient who is immuno-compromised could be treated with such precision-based medicine.
"This has been a neglected area of research but in the last 10 years as we have seen advances in technology, how patient samples are collected and quantum leaps in our understanding of genetics and the human immune system, it's an exciting time to be a researcher," Professor Gandhi said.
"While this breakthrough is a promising step in the right direction it is important to understand this treatment is still far from being available to the general public as all therapies must follow due process of testing and approvals."
The breakthrough precision-based treatment has so far delivered strong results, with details now published in the American Society of Haematology's journal Blood.