Gold spring pessary ('wishbone')
Posted by Robert Craig
The display cabinets viewable from the corridor and function room on Level Four of the Mayne Medical Building are now able to be used after some modifications were made to fully meet the requirements for the collection. The current exhibition curated by Charla Strelan has been based on the original collection displayed at the 1950 meeting of the Australasian Chapter of the BMA. This was a significant milestone in the development of the Medical School in Queensland being the foundation of the Marks-Hirschfeld Museum of Medical History collection. I thought it worth drawing attention to a very small exhibit in the form of a gold wishbone pessary which could easily be overlooked when viewing the exhibits.
When this unusual looking contraption was rediscovered in the collection and required registration it took a while to discover its origins and use. This was mainly because the volunteers were not aware that insertable devices for contraception had been available since the late 19th century. The use of acacia gum pessaries is documented in the Kahun Papyrus (1850 BCE), undocumented use of gold wire inserts has been reported from this era and credible reports of women's control of their fertility exist across history, usually by abortifacients and various topical and ingested concoctions, often being very toxic to the recipient.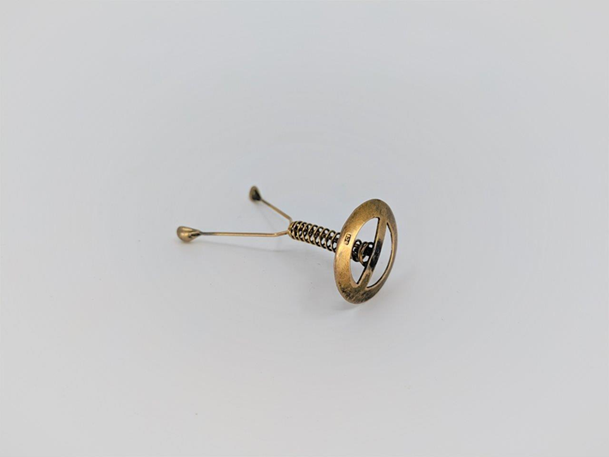 These intra-cervical devices were originally made in Germany from 1880 but later were manufactured in various European countries. They were made from gold, which varied from 9-14 carats, from two wires of about 75mm long, held together at one end by a 20mm gold spring and fixed to a flat button-like stud. The stud prevented the device from working further up the cervical canal into which the spring was inserted with the free arms contained in a gelatine coating. Theoretically, after insertion the gelatine dissolved, and the free wires sprang apart to prevent implantation of a fertilised ovum. The gold was intended to prevent infection, however as a foreign body it caused irritation in the cervical canal, the conduit from the vagina to the uterine cavity, and increased the risk of endometritis and salpingitis causing infertility if the device was not rejected, negating the purpose for which it had been inserted.
In a 1930s Allen and Handbury catalogue the item is listed for £2.12s.6d, a substantial price at the time. Manufacture ceased in 1936 following articles regarding the complications of insertion and the dubious claims made for its reliability. It was not until the 1960s when the intra-uterine device was introduced and gained favour for those women with contraindications to the high dose oral contraceptives available at that time. These devices have only a nylon thread through the cervix for its withdrawal and though IUDs remain an option for contraception, they have been largely superseded by modern methods such as low dose hormonal tablets and implants.