All objects have a story to tell. In medical history in particular, these stories are often a thrilling blend of terror, hope, skill and beauty.  
Here, we shine a light on an object from the Marks-Hirschfeld Museum of Medical History collection to reveal fascinating detail of past lives and to celebrate its important place within the collection.
Junker's inhaler
Chloroform was discovered at around the same time as Morton's demonstration of the anaesthetic effects of ether in 1847. Initially, the vapours were inhaled from a handkerchief or piece of lint held over the patient's face, but both substances were found to damage the skin so various wire frames were made to prevent this happening. Droppers were used to administer the ansaesthetic - the patient breathed the vapour of liquid chloroform dropped onto the fabric of the mask (the 'draw-over' method).
Dr Ferdinand E. Junker was an Austrian who had worked in Germany, Japan and England. In 1860, Junker devised a system where chloroform vapour could be administered directly to the mask without using the dropper method (the 'blow-over' method). A rubber bellows similar to those used on the everyday sphygmomanometer was used to pump air which had passed over chloroform in the bottom of a glass container into the inspiratory limb and directly to the patient's mask. Both limbs were labelled. The inhaler has a hook so that it could be suspended around the neck of the anaesthetist, keeping it in a vertical position and preventing liquid chloroform from running directly into the mask. Despite various modifications to prevent it, the concentration of agent reaching the patient was difficult to quantitate and would quite often be excessive.
The Museum currently has a display on the development of ether, which can be seen on level 3 of the Mayne Medical Building.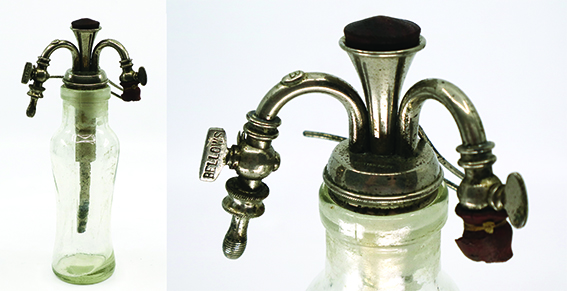 Know something we don't know?
Want to ask a question?
Have you had an experience with this object?
We'd love to hear your stories.
Please email us at medmuseum@uq.edu.au.