Collection close-up archive
Ashton automatic injector
The Ashton automatic injector was developed in the 1950s for patients who were apprehensive to self-inject. Many were diabetics who required several daily injections.
The device was spring-loaded with a Luer lock syringe and needle, filled with the appropriate dose of insulin. A patient would hold the injector firmly against the skin and squeeze the trigger, injecting the needle to the depth of the hypodermis. The maker claimed that the procedure was almost painless.
It was invented and designed by Mr. Donald Lewis of Port Lincoln, and manufactured by Ashton & Co. Ltd in Hilton, South Australia. Problems with bacterial contamination and proper sterilisation meant the automatic injector had a limited production life.
The Marks-Hirschfeld Museum collection includes three Ashton automatic injectors, two of which are in their original boxes with instruction manuals.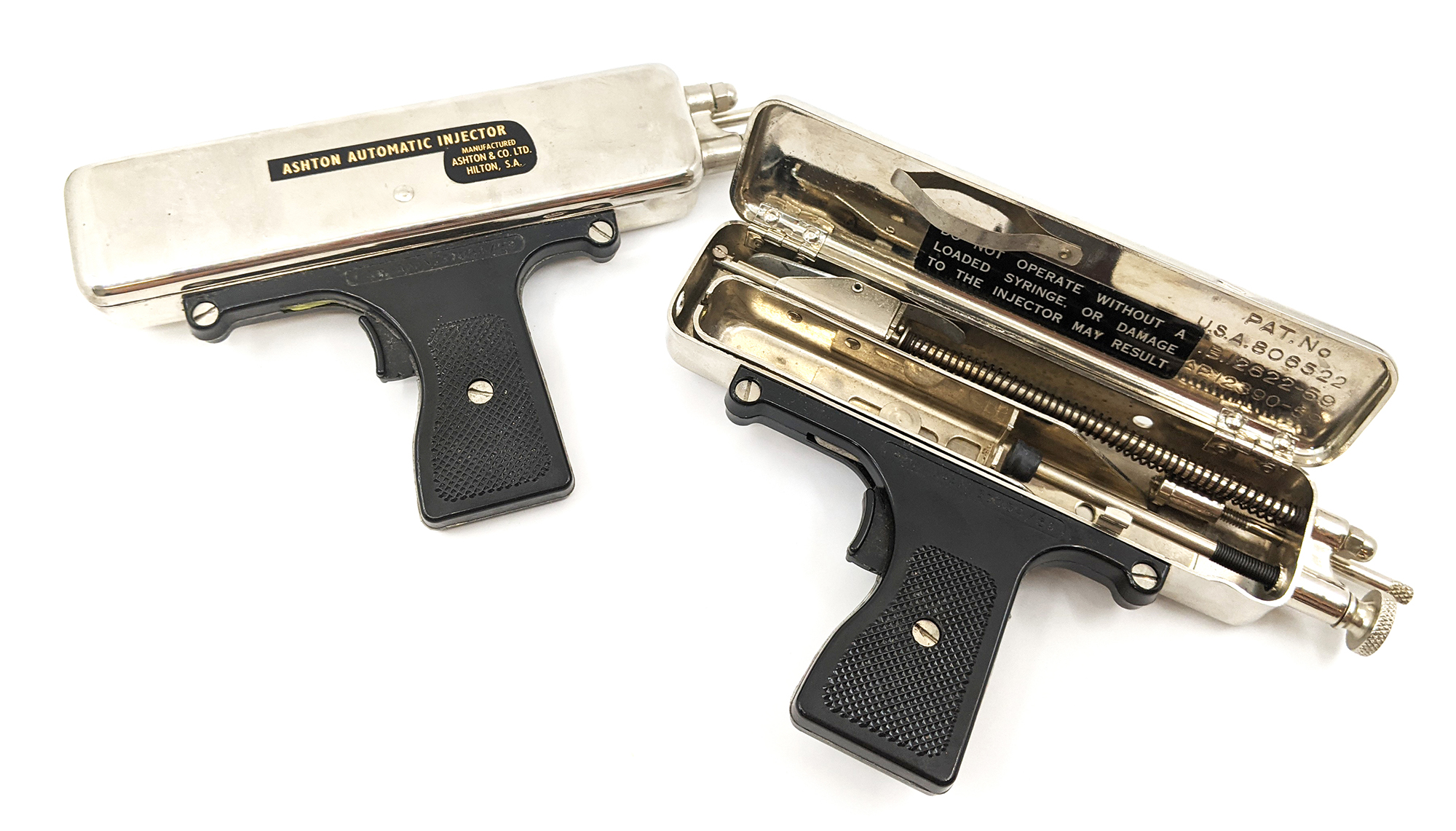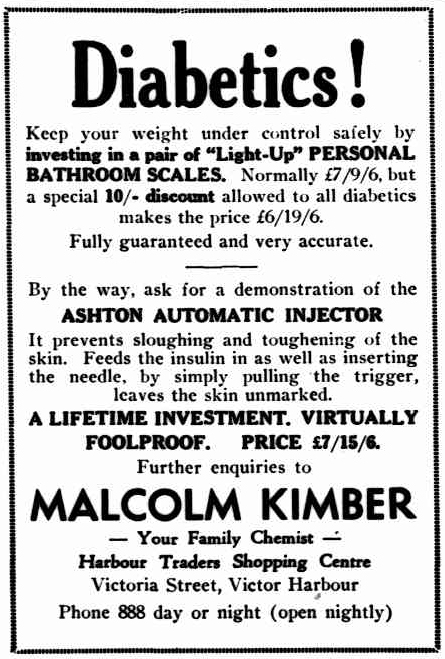 Dr Petz' stomach stapler
The first surgical stapler was developed in 1908 by Dr Húmer Hültl in Hungary. While it worked well and was a revolution in stomach surgery, it was heavy, cumbersome and expensive. Surgeons were reticent to adapt to this new technology.
In 1920 another Hungarian, Dr Aladár Petz improved on the original stapler by making it lighter, easier to use and more affordable. The Von Petz stapler in the Marks-Hirschfeld Museum collection is a model that was adopted all over the world and was in use until the early 1970s. This stapler is in excellent condition and includes the original silver staples that were used with this machine.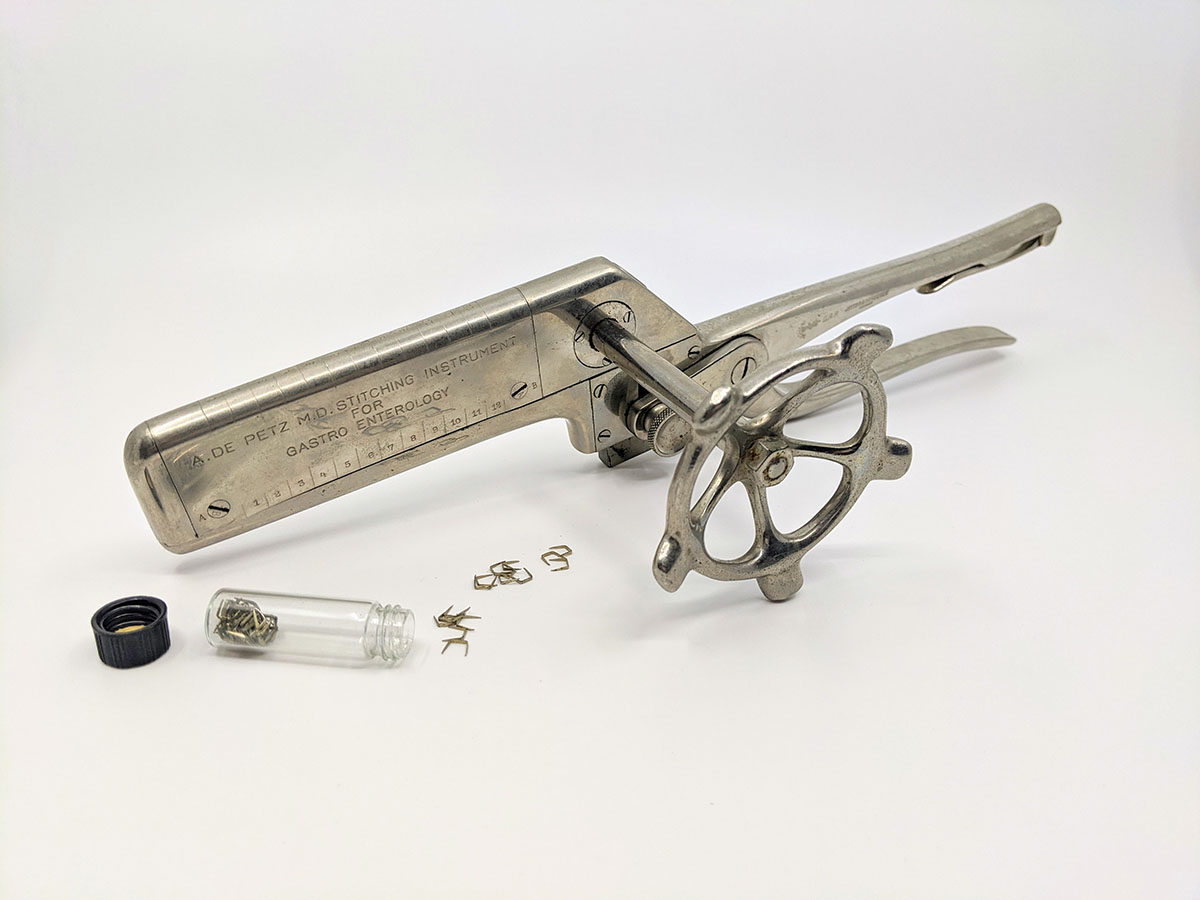 The Museum holds an extensive collection of surgical equipment, with many objects that demonstrate the evolution of surgical technology and innovation.
"I designed the gastro-intestinal suturing instrument in 1920 while working as an assistant professor.  The idea stemmed from the need that the surgeon has to open the digestive tract with its highly contaminated lumen, there-by, risking consequent peritonitis with its associated in-crease in mortality.  Simple manual suturing of the infected lumen of the intestine is time consuming, thus pro-longing surgery and increasing the risk of mortality for patients under anaesthesia.' 

Dr Aladár Petz