Curators Corner - The medical contributions of Dr Alfred Jefferis Turner
The Marks Hirschfeld Museum has developed in a number of ways over the past year.  The complement of volunteers has grown to include people with special interests and skills in pathology, microscopes, anaesthesia, oncology, historical medical practice, art, design and medical literature.  The Catalogue for 2018 has added 560 more registered items making a total of some 4000 items catalogued of an estimated 6000 in the collection.  The Foxton collection made up a large part of the registration work for the year.
As the School is about to undergo further renovation of the interior of the Medical School building we are again faced with shifting the collection. Some readers may recall the last renovation where the collection was stored in shipping containers during the hot wet summer of 2011. We hope space will be found indoors although containers may be needed.  Andy Reed will be supervising the move in the next few weeks.
When the Royal Children's Hospital closed its doors at Herston, the museum was given custody of a desk used by Dr Alfred Jefferis Turner, the first full-time medical officer at the Hospital for Sick Children, Brisbane appointed shortly after he arrived in Australia in 1889.  More recently we were gifted a microscope which had belonged to Dr Turner. The Donors Grandparents had lived next to Dr Turner at Highgate Hill and they had been treated by him as children. What a wonderful story as well as a magnificent gift about a doctor who had played a very important part in improving health for children in Queensland.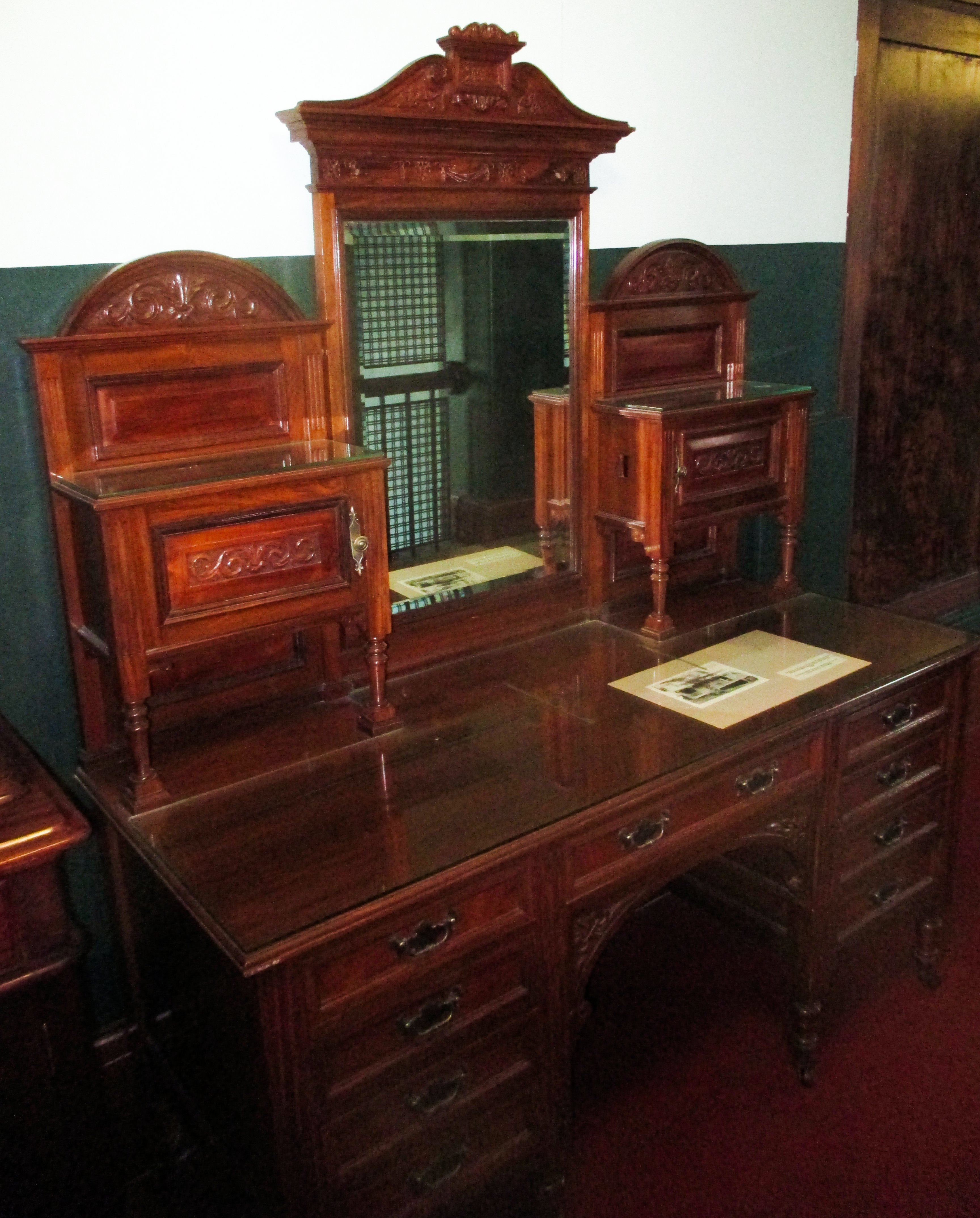 Dr Turner was born in China in 1861 to Missionary parents. He was educated in London and began medical studies in 1878 graduating MB MRCS in 1884 and MD in 1886.  Dr Turner made important and lasting contributions to the health and wellbeing of Queensland children during his career in his new home. He introduced the Diptheria anti toxin in 1895 and with Professor John Lockhart Gibson diagnosed Hook Worm induced anaemia in 1892. The pair also recognised lead in paint as a source of lead poisoning in children. They faced derision and ridicule during an enquiry into the effects of lead in paint with the NSW expert witness giving evidence that children could not be poisoned from lead in paint. The misguided outcome of the enquiry was that it took until the mid 1950s to have lead removed from paint in Queensland.
Dr Turner played an important part in promoting health education for expectant mothers and advocated breast feeding for infants. He had active contact with the Hospital for Sick Children for over 30 years and in 1928 was appointed part time director of the Child Welfare Branch of the Health Department which developed well baby clinics throughout the State.
He was also appointed visiting medical officer of the Diamantina Hospital for Chronic Diseases in 1906, and in 1927 he also became medical officer of the Central Tuberculosis Bureau.
Dr Turner also found time to attend to other interests. He was a noted entomologist having identified, documented and named previously unnamed species. His extensive collection was passed to the National Museum.  In a tribute to Dr Turner on his death in 1947 Heber Longman, former Director of the Queensland Museum wrote "Dr Alfred Jefferis Turner, Queensland's veteran entomologist, was an indefatigable worker and a most zealous collector. Every specimen, in his magnificent collection was selected and mounted with meticulous care. Over 100 of his papers on our butterflies and moths have appeared in a wide range of scientific publications."