Five intriguing IPLC specimens
This Saturday, 18 May is International Museum Day – a day dedicated to raising awareness of museums and their cultural significance. The Faculty of Medicine's very own museum  – the Integrated Pathology Learning Centre (IPLC) – houses a collection of over 5,000 human pathological specimens.
The first specimens to enter the collection were acquired approximately 80 years ago. They have continued to be used in the study of disease how it impacts on the human body.
I started in the role of Curator in July 2018. Not a day goes by that I'm not discovering something new and fascinating in the collection. To celebrate International Museum Day, here are five intriguing specimens (or groups of specimens) you can find in the IPLC.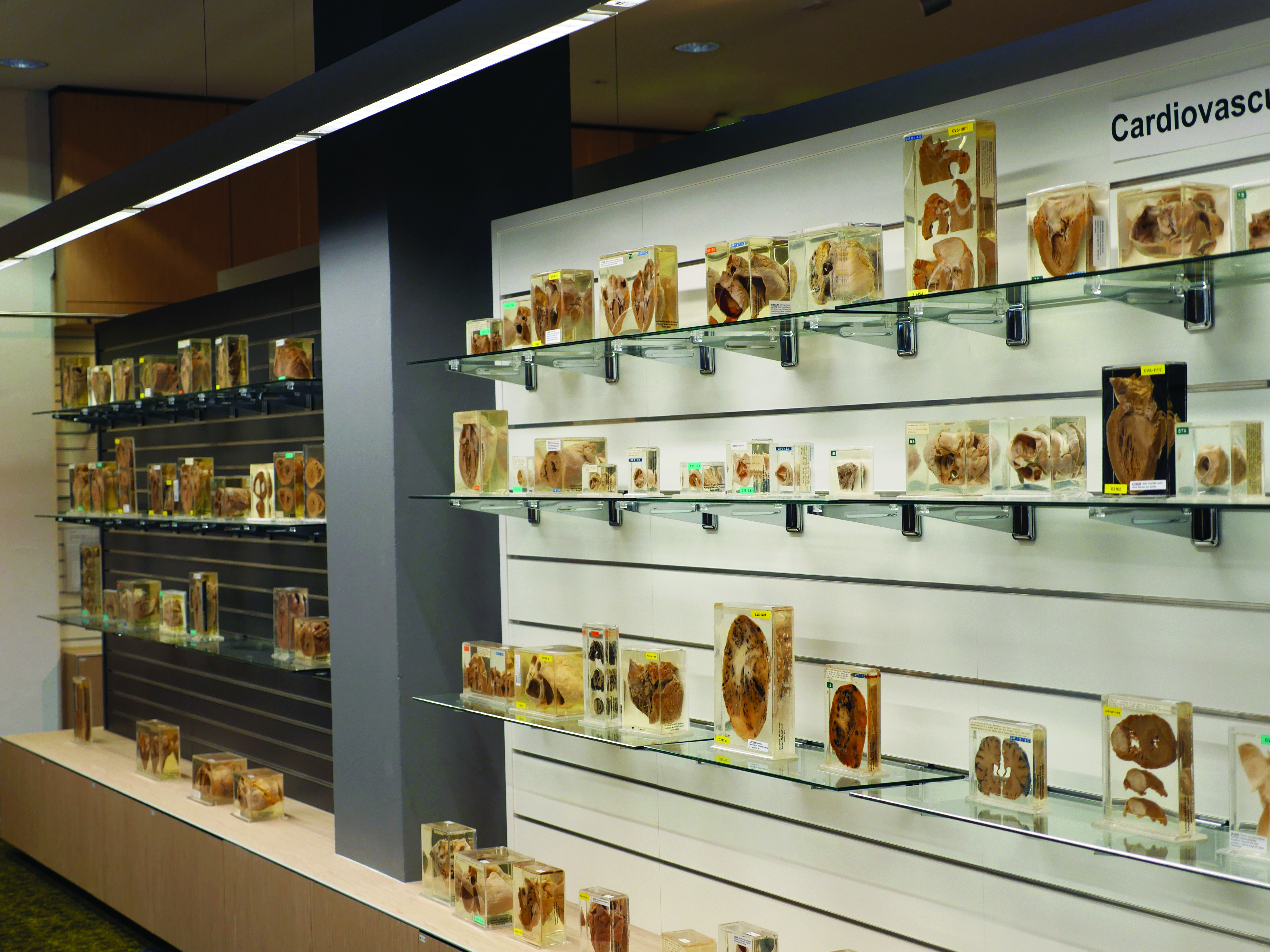 1. Metastatic (Secondary) Melanoma
According to statistics collated by the World Cancer Research Fund, Australia continues to have the highest rate of melanoma in the world. We are followed by New Zealand, Norway and Denmark. The IPLC maintains a number of specimens that shows secondary or metastatic melanoma infiltrating organs such as the brain, liver, heart, and lungs.

2. Polycystic Liver
One of the more recent acquisitions to the IPLC is a polycystic liver weighing 12 kg. Polycystic liver disease is an inherited disorder that results in the growth of cysts throughout the liver. This causes enlargement of the organ resulting in abdominal pain and discomfort. In severe cases, such as the IPLC's example, treatment may require a liver transplant.

3. Trauma Specimens - Vehicle Accidents
Prior to the 1970s, it was not a legal requirement in Australia to wear seatbelts in cars. The IPLC has a collection of trauma specimens from vehicle accidents including ruptured livers and significant brain injury. All are an important reminder to protect yourself as much as possible when on the move.

4. Asbestosis Lungs
Asbestos was used in a popular type of insulation from the 1940s up until the 1980s. Inhaling asbestos fibres is proven to increase the risk of malignant mesothelioma as well as lung, ovary and larynx cancer. The IPLC has a collection of lungs displaying mesothelioma and its impact on those who worked or lived with asbestos during this period.
 
5. Bezoars
The IPLC has a number of bezoars in the collection. Bezoars are blockages in the stomach formed from indigestible materials including hair. Reasons for consuming this material may be due to intellectual disabilities and psychological disorders such as trichotillomania.
To discover more about the IPLC and its fascinating collection, visit the IPLC webpage.