Feeding babies in the late 1700's
"I prefer the Boat to the Horn"

- Dr George Armstrong 1767
Dr George Armstrong was born in 1719 in the Scottish Borders region. He was the eighth child in a sibship of 8.  He qualified in medicine in Edinburgh in 1738 and is thought to have practiced in the Borders region until 1745 when he joined his brother, Dr John Armstrong, in London. Here he founded the "Dispensary for the Infant Poor". He reported that between April 1769, and the beginning of June 1777, "I had seven hundred and thirty-two poor children ill with Whooping-Cough, twenty five of whom died."
George Armstrong had three daughters, Christian and Elizabeth and Ann, and he became interested in children's illnesses. At a time when the mortality rate for children approached 50 percent, he published an essay on the "Diseases most fatal to infants" in 17671. It was this text that first recognised paediatrics as a branch of scientific medicine. He also wrote extensively about feeding infants and, in particular, he advocated breast feeding, but recognised that it was not always possible.
Diana Dick reported "Wet Nursing" is known to have occurred since Roman times. Galen commented that Wet Nurses plied their business by the Colona Lactaria2. Wet nurses were also very much in demand in London until the 18th Century.  It was not an easy market. Dick also told of a merchant who engaged the services of an agent to secure a wet nurse for his infant. The agent secured the services of a mother who had delivered two months previously and whose child was on the brink of death. The mother promised to come to the merchant's home immediately after the burial.
Armstrong advised that "wet nursing" had many short comings and that "dry nursing" or "hand feeding" was an alternative. Success with hand feeding was variable mainly for reasons of hygiene, and the most common cause of death of hand fed infants was diarrhoea.
George Armstrong favoured the spoon or boat over the horn, based on his own experience with his two daughters:
The horn to which Armstrong referred was a drinking vessel fashioned from removing the pith from the horn of a cow, polishing it and making a small hole at the tip of the horn through which milk could flow. A notch was cut near the outlet hole, around which was fastened two small bits of parchment shaped like the tip of a finger of a glove so that the milk can be sucked through the stitches. The milk may have been from cows, goats or donkeys. 
The boat to which Armstrong referred was a "Pap Boat", which was a receptacle similar to a "Gravy Boat" with a spout and a handle. Pap was the common hand feeding source of nourishment for infants. It became common to add flour to milk (or water), to produce a more solid food and this became known as pap which could be fed to the infant from a spoon or a "pap boat". Pap boats came in tin, and for the wealthy, enamelled ware or silver.
A gift for the Museum
Dr Esther Bobbie Bevan was a much loved Senior Neonatal Paediatrician at the Royal Women's Hospital for many years. Born in Broken Hill, she was a University of Queensland graduate, graduating in Medicine with her twin sister Frankie. Twins were no novelty in that year of Medicine as three other sets of twins graduated with Bobbie and Frankie.  Dr Bevan supported many projects in the Medical Faculty throughout her career, particularly in Child Health. In her will, Dr Bevan bequeathed her significant collection of antique pap boats and baby rattles (see below) to the Marks Hirschfeld Museum of Medical History within the Faculty of Medicine. The Museum is very grateful for this major addition to the collection.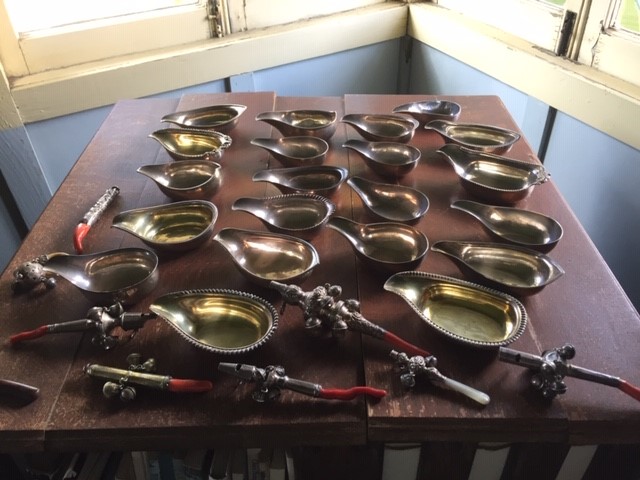 1 Armstong, George. "An Essay on the Diseases Most Fatal to Infants to Which Are Added the Rules to be Observed in the Nursing of Children with a Particular View to Those Who are Brought Up By Hand". Printed by T.Cadell in the Strand, London, MDCCLXVII.
2Dick, Diana. "Yesterday's Babies: A History of Baby Care". Bodly Head, London, 1987.