About this session
So, you need to build a career with your degree? It would be really nice if it was a great career, that pays well and that you also happen to love! But where do you start? In this session, Chris Cornthwaite, founder of Roostervane.com, will talk about the two first steps to building an awesome career with any degree: Career Mindset and Networking.
---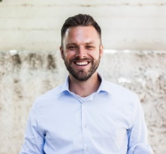 Dr Chris Cornthwaite holds a PhD in religious studies from the University of Toronto. His first non-academic work was in public policy, where he worked for a think tank and for the Government of Canada. His work background includes running national projects on Indigenous reconciliation, Canadian economic competitiveness, and working on a team that helps other countries launch refugee programs. He still consults in the refugee space. 
He founded Roostervane.com in 2019 to give accessible and relatable career advice to students with advanced degrees. The site sees between 15-50,000 users a month and its social channels reach 1.5 million monthly with career advice and inspiration.
Join via Zoom: https://uqz.zoom.us/j/83495573635 
About Faculty of Medicine HDR Symposium Week
The 2020 Faculty of Medicine HDR Week is an online event showcasing presentations from our HDR students within our faculty, including keynote speakers and a jam-packed program of workshops and sessions to support students through the various stages of their PhD and career options thereafter.
All Faculty of Medicine HDR Students are encouraged to attend all sessions throughout the week. Staff are encouraged to support our HDR students at the lunchtime presentation sessions.
Venue
Via Zoom: https://uqz.zoom.us/j/83495573635