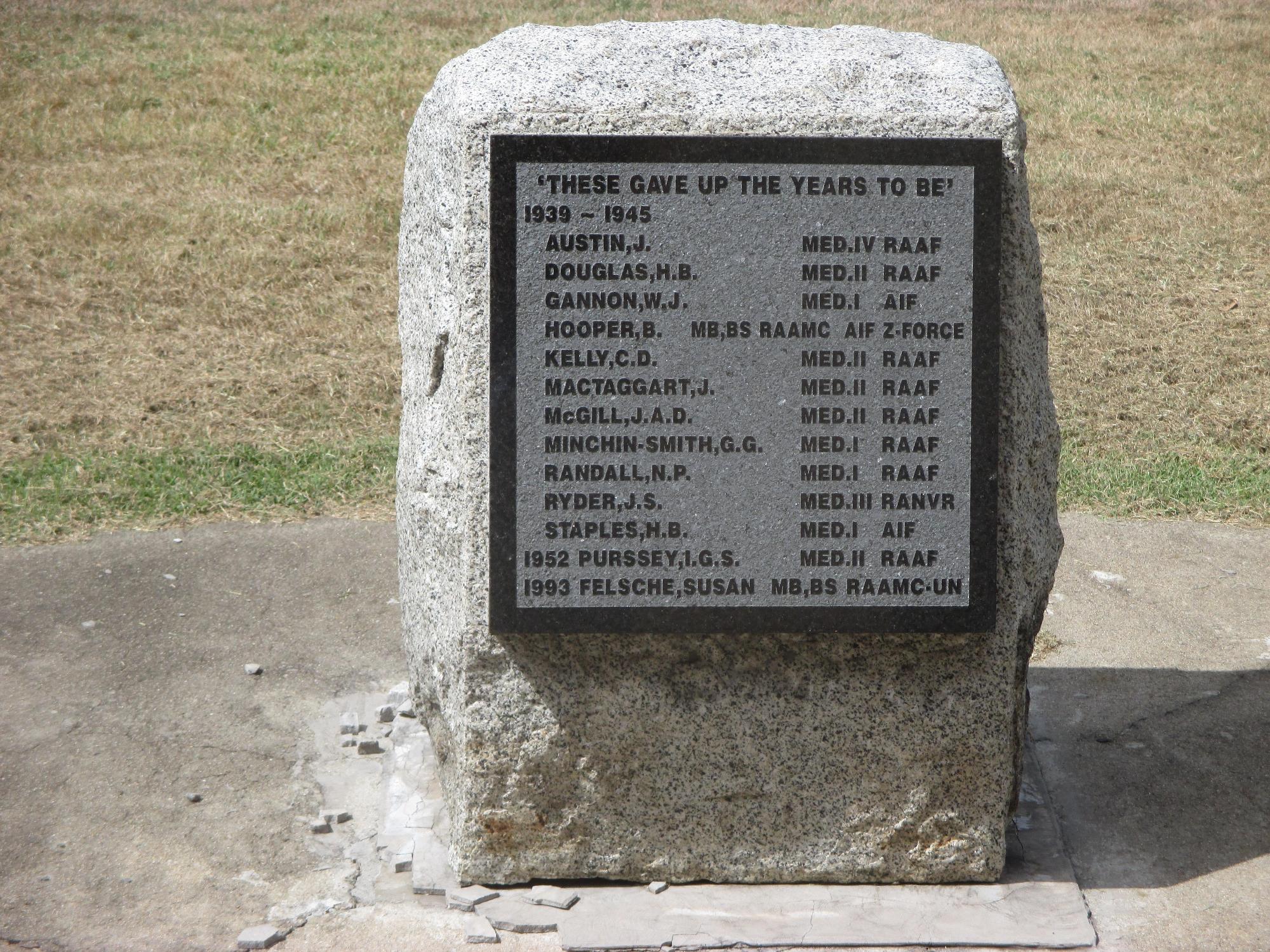 In 1952, some 10 years after the death of the first University of Queensland Medical student during World War II, a memorial cairn was unveiled in front of the Medical School building.
Deputy Chancellor, Mr A.D. McGill, QC, in his address espoused the importance of the stone stating;
"This Cairn will be a true Memorial if there is ever heard from it the call to service and to sacrifice – to do so in order to secure and preserve peace and to make a better world.  If that call is heard, and obeyed, they then who have died yet live and speak.  They shall live on in the good works of those who hear their call." (Trephine – Volume III, No.1, 1952)
The ceremony was presided over by Sir John Lavarack, Governor of Queensland, in the presence of relatives of the deceased, staff and students of the Medical School and with both the University Regiment and the Northern Command Band as guards of honour.
A member (who prefers not to be named), of the University Regiment present at the ceremony has provided the newsletter with the following details and accompanying photographs.
'The senior medical undergraduate for the celebration was a Captain J.F. Scanlan, MC, and the officers of the guard were all medical students with Lieutenant Pozzi as the commander of the guard.  The flag orderly, Glen Marrinan, was also a medical student.  The guard wore black arm-bands for the occasion and as ceremonial swords had not yet been re-introduced, all carried Lee Enfield Rifles (the same type that was carried and used by Australian troops during both World Wars).'
It is uncertain whether the unveiling of the cairn in 1952 marks the start of the annual ANZAC services.  According to the University of Queensland Medical Student records, the student-run Memorial Day Service has been a regular event for the last 26 years or so.
The establishment of the cairn was a result of the tireless efforts of the Ex-Servicemen's League of the School of Medicine.  Sadly, one year after the unveiling this organisation came to an end.  Though no one would have expected or wanted it at the time; another medical student's name, Ian (Will) Goodwin Swan Purssey, would be added to the list in the very same year.  Two other names were subsequently added in 1993 and 2005.