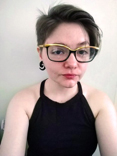 Leading in and leading out
With undergraduate training in photographic art practice and art psychotherapy I have always been interested in using art practices for self-reflection, communication, and insight. My art therapy journey began with a photographic exploration of my personal identity. This process was both extremely confronting and rewarding. It sparked my passion for understanding and practicing art therapy.
My research themes emerged as a self-inquiry about the experience of insight, and identity transitions. The study focused on my emerging professional identity and if the use of an extended art process would generate deeper insight into this identity transition. Unexpected themes of anxiety emerged around feelings of professional inadequacy, and difficulty adjusting from a student to a professional role. This transition can impact on a new therapist's sense of identity and self-worth. These themes were difficult to identify and process amongst the excitement of graduating. The extended art process was essential to explore the experience of insight, gain understanding of my emerging professional identity, and allow the opportunity to develop a unique approach to art therapy practice.
Throughout the research project I worked one a single canvas. All artworks included in the exhibition have used an extended art process to help deepened my understanding of their meaning and significance. The use of mixed media and 3D elements allowed me to build up the layers on the canvas board. I was unconsciously drawn to using materials that I had previously used to explore my personal identity in my undergraduate degrees including photography and clay.
---