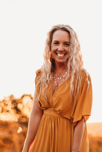 The empowered participant: Inviting participant lived experience into collaborative, phenomenological art therapy intervention design
Alyce Aldous is an expressive artist who studied drama, dance, biology, photography, visual arts and education prior to finding the field of Art Therapy. She is a natural connector and developer and is passionate about the power of belonging, community and hope that arises from supportive social engagement.
Through a process of adaptation and continuous development, Alyce's passions have been woven into a research tapestry that focuses on consumer experience. Her research is an interconnected, humanistic practice that has explored gaps between arts and health; clinical frameworks and therapeutic relationships; person-centred approaches and directive outcomes; acts of advising and inviting as well as the role of the collective and the individual. These threads have formed a research design that involves the participant to actively contribute to their mental health treatment through methods of self-awareness, reflection, empowerment and expression. The participant's voice and engagement adds valuable input in this research. Embracing integrated approaches and methods that humanise and empower a participant in their mental health treatment, often has positive long-term effects. Alyce's role in the research provides a container in which the participant can safely explore personal experiences through creativity, symbolism and reflection.
Alyce has explored the process of this research through her own reflective artmaking. Fluid and emotive, Alyce has used alcohol inks as the primary media for her artworks. The materials allowed Alyce to let go control of the process, to "go with the flow" and create space for mindful practice. The use of wet media on primed wooden canvases has challenged Alyce to accept some of the "mistakes" and "unforeseen" moments that have taken place through the development of the research. One of these unforeseen challenges has been the global COVID-19 pandemic and social isolation practices which have had an impact on both research and client facing practice. These challenges have allowed Alyce to explore relationships between humanity and control, mindful moments "within the waiting" and highlight how mental health recovery is not a one-size-fits-all model. Through Alyce's alcohol ink artmaking and research design, she reflects on stories of mental health lived experience and the unique paths taken to wellbeing. These artworks highlight the value of art therapy during this historical time, where engaging in collaborative, social, expressive, and meaningful human engagement is imperative. 
---