A desire to improve the life and wellbeing of the disadvantaged is at the heart of UQ Centre for Health Services (CHSR) Research Fellow Kim-Huong Nguyen's life.
That and a passion for dancing. 
Growing up in Vietnam, Kim's journey into health economics began when she received a scholarship to study a Master of Economics at UQ.
After completing the program, Kim returned to Vietnam and began working as an economic consultant for development projects.
"My first job was with a NGO working on poverty reduction and job creation for women in poor rural communities in Northern Vietnam," Kim explains.  
"This experience made a huge impression on me. It led me to focus my attention on improving the life and wellbeing of the disadvantaged, and on learning to understand the causes of inequality and poverty in education, health and finance.
"Researching ways to help empower vulnerable populations is at the heart of my work and something I feel so privileged to do and so passionate about – it is the driving force behind my research."
The path of research has come naturally for Kim, who was encouraged by her parents, both scientists, from an early age to ask questions.
"Our house was full of books and our conversations always revolved around science-related topics," Kim says. "While reading and having a home library aren't such unusual things in Australia, they were in Vietnam which was a very poor country during my childhood.
"My grandfather and my parents were avid readers and always tried to spare some money per month for books. Compared to an average Vietnamese child of my time, I read a lot more and therefore developed my curiosity and strong affection to science."
"Vietnam was a developing country with strongly-defined traditional gender beliefs, like education is for men while woman should stay home to look after the children and the housework. Despite this, my grandfather was all about 'empowerment' for the disadvantaged, including women.
"My work today with vulnerable people is always around the concept of empowerment and enablement."
In her role at CHSR, Kim combines her economic and mathematical knowledge to evaluate health intervention programs and policies.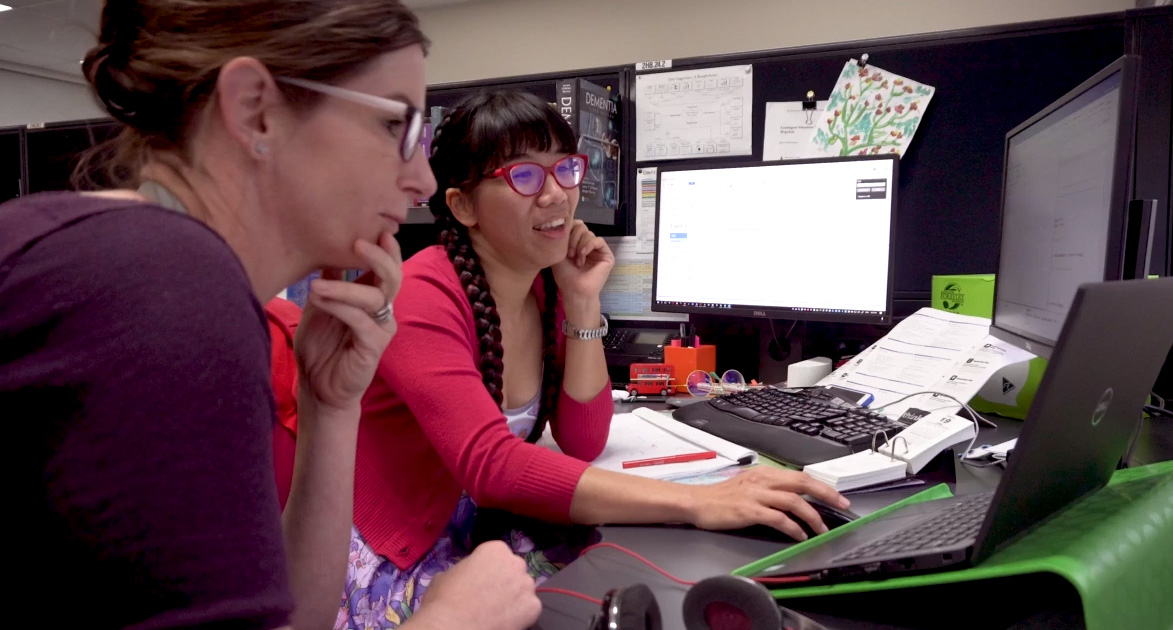 Her work is currently focused on the economics of health and social services for elderly people, in particular people with dementia and their caregivers.
"Here we have a population that is often under-represented in policy forums," she explains. "I want to discover and create effective pathways to improve health outcomes, social wellbeing and quality of life for these people."
"I am particularly interested in the use of technologies such as telehealth, mobile technologies, robots and artificial intelligence, and their ability to assist healthcare professionals and social workers in providing services.
"These technologies have the potential to liberate health professionals from mundane tasks so they can focus on improving the quality of human connection in their day-to-day work.   Given that CHSR has a unit specialising in Geriatrics Medicine and a research unit specialising in telehealth, it's proved to be the perfect place for me to undertake my research."
But how does dancing fit into all this?
"Dancing is one of the best preventative treatments for dementia and is a great way to age well!"
"I am interested in and enjoy participating in all kinds of partner dances including Ballroom, Latin, American Swing and Brazilian dances. Believe it or not, in my undergraduate degree in Vietnam, we had to pass a dancing course to receive our degree."
When she's not in the office or burning up the dancefloor, Kim loves to spend time with her family outdoors and is teaching her daughter Minty to ask questions about the world. Just as her parents encouraged her to do so.