Project title: A journey in self-compassion: An exploration in using reflective clay making for self-care and emotional expression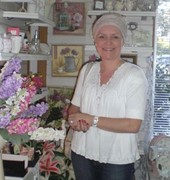 Life is full of twists and turns, yet this can often lead to unexpected but wonderous destinations. I have had many rich and contrasting experiences in my life so far. My life began in Northern Ireland where I grew up amidst the 'Troubles'. We then relocated to South Africa amidst apartheid and once married, I moved to England where I worked and furthered my studies. Australia has been home for the last 14 years. 
Across these varied landscapes of life, I have witnessed how traumatic experiences can affect the human heart and mind. With a Bachelor of Social Science and a background in nursing and psychology, I am driven by the desire to see those with emotional wounds find healing and restoration. I am passionate about art therapy and how the creative process can have a positive and healing effect on our mental health. I believe expressing emotions creatively can help us to make sense of how we feel and allow space for healing and restoration to take place. Creativity is for all, and it is wonderful to see participants explore the creative process to enhance and restore their wellbeing. Every person and their story have value and meaning. Having navigated a cancer diagnosis myself some years back, I am also passionate about seeing art therapy integrated into oncology care.
As a mental health practitioner, in supporting the mental health of others, we also need to care for our own mental health. This enables us to continue our practice in a healthy and sustainable way. This research project explores the use of clay-making as a regular reflective practice to facilitate self-compassion and self-care.  Clay was selected as the creative medium as clay work has been shown to reduce levels of emotional distress and strengthen emotional expression (Nan and Ho, 2017). There is however a gap in research regarding the use of reflective clay making as a tool for self-care and self-compassion. 
This research project had to shift in its design due to covid restrictions. It is now a personal one and as such presented challenges in the process. In our role as a mental health practitioner and art therapist, we aim to create a safe space to enable our clients to be open, honest, and work through vulnerable emotions. Giving ourselves space to do the same is essential in caring for our own mental health and wellbeing. The artwork created here is symbolic of this journey of discovery.
---