Project title: A bouquet of experience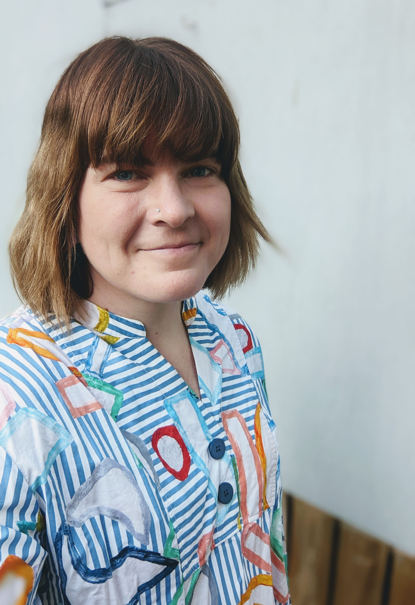 Within a bouquet of beautifully arranged flowers, each flower is naturally unique; on its own, delightful, together with others- spectacular! Like this arrangement, my life is expressed through the stories I share, colourful attires, pink/black socks, delicacy glazed blue and red ceramic earrings. Just like a bouquet, I embrace a floral arrangement of experience and beauty. I enjoy inviting people to get comfy, settle into an armchair with a warm cup of tea and be curious about art making. In doing, I encourage each person to find their inner sunflower and discover its story.
I have immersed myself in art, people and places and my personal and professional practice provide us with a glimpse of my creative passion inspired by these encounters. I studied visual arts and education, which was the foundation of my therapeutic career. Teaching stimulated a desire to explore the complexities of people and urban/natural environments. My thirst for meaning and inspiration enticed me beyond Australian shores, to a new home with new and wondrous experiences. These small moments of life opened my creative eyes to a sensory world of inspiration, creativity and knowledge. Each country with different history, a different layer captured as new flower in my cherished floral bunch. Throughout this time, I pursued my artistic practice, postcards of my journey expressed in figurative artworks, buildings, natural and abstract forms. I use a multi-disciplinary practice across painting, drawing and sculpture in order to document my colourful interactions across the globe.
Six years were spent as an art teacher stretched from disengaged youth, special needs to mainstream private school settings. This dynamic journey embodies my practice as an art therapist; drawing on sensory, play and education elements to complement my style and approach with clients. My research project offered an opportunity to look within and begin to reweave my existing professions together. Naturally this process cultivated self-doubt and psychological challenges. Through a heuristic inquiry, I sought to progress from self-doubt to self-acceptance by doing what I love most, experiencing life, connecting with others and making art!
My personal artmaking contains the essence of this array of modifications. The artworks symbolise moments within my life, like a flower cut from the field, it is temporarily preserved, captured and thoughtfully arranged amongst others. 
---